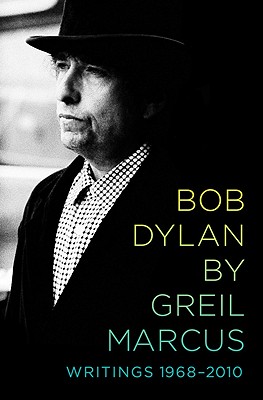 Bob Dylan by Greil Marcus: Writings 1968-2010 (Hardcover)
Writings 1968-2010
PublicAffairs, 9781586488314, 512pp.
Publication Date: October 1, 2010
* Individual store prices may vary.
or
Not Currently Available for Direct Purchase
Description
The book begins in Berkeley in 1968, and ends with a piece on Dylan's show at the University of Minnesota--his very first appearance at his alma mater--on election night 2008. In between are moments of euphoric discovery: From Marcus's liner notes for the 1967 Basement Tapes (pop music's most famous bootlegged archives) to his exploration of Dylan's reimagining of the American experience in the 1997 "Time Out of Mind." And rejection; Marcus's "Rolling Stone" piece on Dylan's album "Self Portrait"--often called the most famous record review ever written--began with "What is this shit?" and led to his departure from the magazine for five years. Marcus follows not only recordings but performances, books, movies, and all manner of highways and byways in which Bob Dylan has made himself felt in our culture.
Together the dozens of pieces collected here comprise a portrait of how, throughout his career, Bob Dylan has drawn upon and reinvented the landscape of traditional American song, its myths and choruses, heroes and villains. They are the result of a more than forty-year engagement between an unparalleled singer and a uniquely acute listener.
About the Author
Greil Marcus is the author of When That Rough God Goes Riding and Like a Rolling Stone (both with PublicAffairs), The Old Weird America, The Shape of Things to Come, Mystery Train, Dead Elvis, In the Fascist Bathroom, and other books; a twentieth anniversary edition of his Lipstick Traces was published in 2009. With Werner Sollors he is the editor of A New Literary History of America, published by Harvard University Press. Since 2000 he has taught at Princeton, Berkeley, Minnesota, and the New School in New York; his column "Real Life Rock Top 10" appears regularly in The Believer. He lives in Berkeley.
Praise For Bob Dylan by Greil Marcus: Writings 1968-2010…
Rolling Stone, October, 2010
"As a critic, Greil Marcus is a tough crowd—his bullshit detector should get some kind of Nobel Prize. No writer has followed Bob Dylan as closely or as passionately as Marcus, who makes the man's whole career seem like one wild American adventure. And nobody has ever written about Dylan with so much savage wit…. In this essential anthology, Marcus chronicles Dylan's ups and downs…. The collection reads like the journal of a 40-year love story…. Through it all, Marcus' words are restless and probing—a true match for Dylan's voice."
 Book Page, December 2010
"No one else has anatomized Bob Dylan, his music and his personality as relentlessly or as minutely as Greil Marcus. Witness now the culmination of that obsession in Bob Dylan by Greil Marcus…. But this is more than a study of Dylan—it's a jagged portrait of the age."
American Scholar, Winter 2011
"No cultural critic has contemplated the meaning of Dylan's music and career more thoroughly than Greil Marcus…. What makes this collection of writings so welcome is that Marcus's career as a critic began just after those profound and turbulent times; over half the book covers Dylan's career since 1990…. Reading some 40 years of Marcus's criticism on Bob Dylan allows us to appreciate more fully than we have before the long arc of the musician's career. It also displays the development of the critic's vision of America." 
San Francisco Chronicle, November 28, 2010
"Why read anyone else's work on Dylan? Through previous tomes like
Invisible Republic
and
Like a Rolling Stone
, the Berkeley-based Marcus has done more to build the Dylan myth than the curmudgeonly man himself." 
Boston Globe, November 26, 2010
"If anyone is worthy of an entire collection of critiques of Bob Dylan, it's Marcus. The rock critic and cultural commentator has astutely chronicled Dylan's trajectory for more than four decades through record reviews, essays, and books." 
The Forward, November 22, 2010
"So how best to understand Bob Dylan? Miles Davis, another modern master of American music, once said, 'Don't play what's there, play what's not there.' Playing what's there and what's not there as a critic — a mode familiar to Dylan playing out his influences as an artist, as well — Marcus allows Dylan's work to be heard thicker, stranger, more boldly and with more imagination than we could hear it on our own."
 Minneapolis Start Tribune, Best Nonfiction of 2010
"A wondrous pairing of one of the greatest musicians in American history and one of our greatest music journalists.... These pieces create a vivid, fascinating portrait of how, through his long and trailblazing career, Dylan has drawn from and utterly reinvented the landscape of traditional American song. Marcus' collected celebrations (and occasional disappointed criticisms) of Dylan are must-reading for Dylan devotees everywhere."
Robert Loss , Bookslut, December 6, 2010
"Eccentric, volatile, persuasive: Bob Dylan by Greil Marcus: Writings 1968-2010 reads like the free adventure offered by its subject…. A clutch of dispatches from a correspondent grown skeptical but still capable of being surprised -- who in fact wants to be surprised…. Marcus is simply one of the few in his field who can match Dylan on a subject they both find fascinating: America."
Advertisement