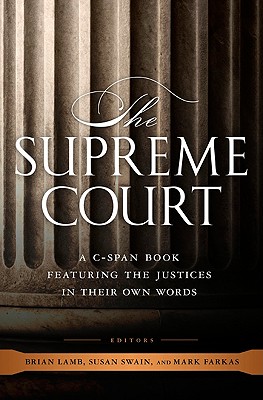 The Supreme Court: A C-Span Book Featuring the Justices in Their Own Words (Hardcover)
A C-Span Book Featuring the Justices in Their Own Words
PublicAffairs, 9781586488352, 381pp.
Publication Date: May 4, 2010
* Individual store prices may vary.
or
Not Currently Available for Direct Purchase
Description
The Supreme Court
grew out of a unique opportunity to interview all nine sitting Supreme Court Justices plus retired Justice O'Connor for a documentary on the Supreme Court. Through Brian Lamb and Susan Swain's interviews with our country's most influential judges, the book offers portraits of the Justices that introduces readers to the closed world of the Supreme Court, and what's it's really like to serve on the nation's highest Court.
Accompanying the Justices around the Supreme Court, and through offices steeped in historic memorabilia, Lamb and Swain offer readers a window into a fascinating world to which few have had access. In these pages, Justice Sotomayor reflects on her first impressions of the job and the acclimation process. Justice Breyer takes us behind the scenes on a private tour of his Chambers as he describes how the Court works. And Chief Justice Roberts talks about the role of the Court in Society, the role of the Chief Justice, and the process of deciding cases.
Enriching this unique material are interviews with journalists, court historians, and other experts on the Court. Journalists Joan Biskupic and Lyle Denniston (the longest serving Supreme Court reporter) talk about the process that unfolds in the Court and the impact of a new member of the Court. Clerk of the Supreme Court William Suter provides insights into the traditions of the Court. Historian Jim O'Hara discusses the Supreme Court building and its history. Two attorneys who have argued numerous cases in front of the Supreme Court tell readers what it's like facing the justices in fast paced oral arguments.
Vividly illustrated with color photographs, the book is a perfect gift for anyone interested in the makings of this powerful institution.
About the Author
Brian Lamb is C-SPAN's founding CEO and chairman and longtime on-camera interviewer. Lamb lives in Arlington, Virginia. Susan Swain is President & co-Chief Operating Officer of C-SPAN. For more than twenty-five years, she has been an on-air interviewer for the program. A regular moderator of Washington Journal, she's interviewed hundreds of members of Congress, policy experts, journalists and several presidents. She lives in Northern Virginia.Mark Farkas has been involved in C-SPAN feature productions for a quarter-century. In addition to his projects on the U.S. Capitol and the White House, Farkas was executive producer for C-SPAN's 1999-2000 Peabody Award winning series "American Presidents: Life Portraits;" the 1998 "Alexis deTocqueville Tour," and 1994's "Lincoln-Douglas Debates."
Praise For The Supreme Court: A C-Span Book Featuring the Justices in Their Own Words…
Booklist, May 15, 2010
"C-SPAN set out to do a documentary on the history of the stately Supreme Court building when a confluence of circumstances turned the project into a collection of interviews with the then-sitting jurists, as well as retired Associate Justice Sandra Day O'Connor and recently seated Justice Sonia Sotomayor. To get such broad access to this group of famously media-shy figures was a major coup… The total package is a fascinating look."

PoliticsDaily, April 29, 2010
"C-SPAN, the treasured chronicler of American public affairs, has yet again provided a valuable service with a new documentary book about the Supreme Court. …Very helpful is a good way to describe C-SPAN's book and its continuing efforts to educate Americans about what the Supreme Court is and is not. How about Brian Lamb as the next justice?"
Advertisement