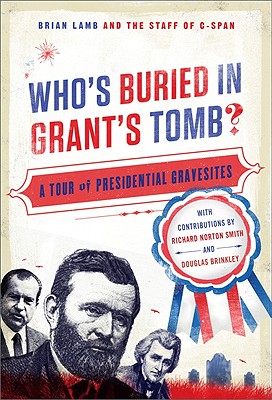 Who's Buried in Grant's Tomb?
A Tour of Presidential Gravesites
Paperback

* Individual store prices may vary.
Description
Some presidents have been larger than life but none of them have been larger than death. Brian Lamb has visited the gravesites of every American president, living and dead, in order to put together this book, with assistance from the staff of C-SPAN. Heavily illustrated and with contributions from historians Richard Norton Smith and Douglas Brinkley, Who's Buried in Grant's Tomb? is about the presidents' lives as much as it is about their final resting places. The book's collection of the presidents' last words, from Franklin Delano Roosevelt's "I have a terrific headache" to John Adams's "Thomas Jefferson still survives" offers a poignant and sometimes humorous look at the last moments of the great men. This is a great way to encounter the presidents, from the great ones to the near-forgottens. Who's Buried in Grant's Tomb? belongs in the glove box of every traveler and the bedside table of every fan of the American presidency and American history.
PublicAffairs, 9781586488697, 288pp.
Publication Date: February 9, 2010
About the Author
Brian Lamb is C-SPAN's chairman and CEO and longtime on-camera interviewer, noted for his "just the facts" style of interviewing. Many of the essays in this book are drawn from Booknotes, Lamb's long-running author-interview program, while others were conducted for C-SPAN's special history series on Lincoln and on the American presidency. Lamb lives in Arlington, Virginia.