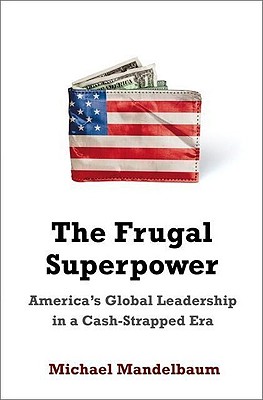 The Frugal Superpower
America's Global Leadership in a Cash-Strapped Era
Hardcover

* Individual store prices may vary.
Other Editions of This Title:
Paperback (8/9/2011)
Paperback (3/1/2011)
Description
Which of America's essential international commitments can we afford to keep in this time of diminished financial resources?
Praise For The Frugal Superpower: America's Global Leadership in a Cash-Strapped Era…
The Observer (UK)</I>, August 8, 2010
"Cool and concise… It isn't often that you see foreign policy, healthcare and pensions discussed in the same breath, but it makes you sit up when you do."
Financial Times, August 8, 2010
"Mr Mandelbaum has been preaching the gospel of petrol taxes for a long time, and does so persuasively… The author is always reasonable and clear." 
Sunday Times (UK), August 8, 2010
"Mandelbaum is persuasive in defining the structural problems of the American economy, and the consequences." 
Basil & Spice, August 17, 2010

"Mandelbaum writes in... clear, easy-to-comprehend prose. I recommend The Frugal Superpower without reservation and I hope that President Barack Obama and his Cabinet and advisors and Congress will follow the sensible policies advocated by its author." 
Pajamas Media, August 13, 2010
"My friend Michael Mandelbaum has a new book out this month with the timely title and theme
The Frugal Superpower
. It's also short, as if Michael were reminding us this is not a good moment to overspend on excess paper in our cash-strapped world. As an advocate of the short book in general (with some obvious exceptions), I call that a win-win." 
Thomas Friedman, The New York Times, September 4, 2010
"Very timely"
Harvard Magazine
"It's easy to be powerful (if not loved) when rich. But what happens when the chief guarantor of world security becomes less so? The author, of Johns Hopkins School of Advanced International Studies, sees a more modest U.S. profile, and less imported oil." 
Norfolk Virginian-Pilot, December 13, 2010
"In explaining the connection between recent domestic policy developments and U.S. foreign policy, the author provides an uncomplicated foundation for understanding the direct line between politics and economics." 
Washington Diplomat, February, 2011

"The book, released in August 2010, is timely not only because of lingering uncertainties surrounding the supposed economic recovery, but also because of the underlying, long-term issues it addresses. Mandelbaum makes a strong, clear case that America's unrestrained foreign policy will crack under the weight of crippling deficits — fueled by the huge costs of the financial crash and the nation's entitlement programs."  
Modern Judaism, February, 2011
"An excellent…account of a country whose historic poverty, exacerbated by the Vietnam War, remains remarkably unchanged."

Vingtieme Siecle, January 20, 2011
"This concise and elegant history of 'Commentary' is a good introduction for those looking to understand the influence and role of the monthly in the intellectual wars of the post-WWII United States." 
Domestic Fuel, February 15, 2011
"This book offers the best case I have ever seen that oil is a major risk to American security and presents it in a way that a true politician, worried about foreign relations, cannot deny why our country needs to move to renewable energy."
CHOICE, April 2011 "Mandelbaum presents a solid argument for a third strategy in 'a cash-strapped era'--to reduce US oil consumption by imposing a gasoline tax…Highly recommended."
PublicAffairs, 9781586489168, 224pp.
Publication Date: August 1, 2010
About the Author
Michael Mandelbaum is the Christian A. Herter Professor of American Foreign Policy; Director of the American Foreign Policy Program at Johns Hopkins, SAIS. He is a former faculty member at Harvard University, Columbia University and the U.S. Naval Academy; his Ph.D. in political science came from Harvard University.
Coverage from NPR
or
Not Currently Available for Direct Purchase