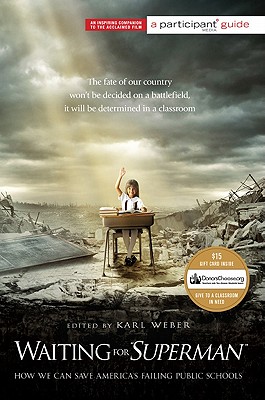 Waiting for ""SUPERMAN"" (Paperback)
How We Can Save America's Failing Public Schools
PublicAffairs, 9781586489274, 288pp.
Publication Date: September 14, 2010
* Individual store prices may vary.
Description
Each book includes a 15 gift card from DonorsChoose.org to give to a classroom in need.
The American public school system is in crisis, failing millions of students, producing as many drop-outs as graduates, and threatening our economic future. By 2020, the United States will have 123 million high-skill jobs to fill—and fewer than 50 million Americans qualified to fill them.
Educators, parents, political leaders, business people, and concerned citizens are determined to save our educational system. Waiting for "Superman" offers powerful insights from some of those at the leading edge of educational innovation, including Bill and Melinda Gates, Michelle Rhee, Geoffrey Canada, and more.
Waiting for "Superman" is an inspiring call for reform and includes special chapters that provide resources, ideas, and hands-on suggestions for improving the schools in your own community as well as throughout the nation.
For parents, teachers, and concerned citizens alike, Waiting for
"Superman"
is an essential guide to the issues, challenges, and opportunities facing America's schools.
About the Author
Karl Weber
is a writer and editor based in New York. He collaborated with Muhammad Yunus on his bestseller
Creating a World Without Poverty
and has edited two previous Participant Media Guides,
Food, Inc.
and
Cane Toads and Other Rogue Species
.
Davis Guggenheim is a critically acclaimed, Academy Award®-winning director and producer, whose work includes It Might Get Loud, the 2009 documentary featuring Jimmy Page, The Edge, and Jack White; and An Inconvenient Truth featuring former Vice President Al Gore, which won the Oscar® for Best Documentary in 2007. More recently, Guggenheim directed Barack Obama's biographical film for the 2008 Democratic National Convention, as well as Obama's 30-minute primetime infomercial. Guggenheim has also directed many television series including Deadwood, NYPD Blue, and 24.