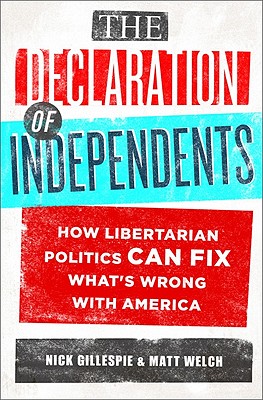 The Declaration of Independents: How Libertarian Politics Can Fix What's Wrong with America (Hardcover)
How Libertarian Politics Can Fix What's Wrong with America
PublicAffairs, 9781586489380, 288pp.
Publication Date: May 1, 2011
* Individual store prices may vary.
or
Not Currently Available for Direct Purchase
Description
A wonderful future awaits--if we can set ourselves free from our archaic and dysfunctional political system
About the Author
Nick Gillespie and Matt Welch are the editors, respectively, of Reason.tv and Reason magazine. Gillespie writes often for the Wall Street Journal and New York Times, and is a regular guest on Fox News. Welch, author of McCain: The Myth of a Maverick, is a frequent contributor to the Los Angeles Times (where he used to work), the New York Post, Bloggingheads.tv, and talk radio around the country.
Praise For The Declaration of Independents: How Libertarian Politics Can Fix What's Wrong with America…
Kirkus, May 5, 2011
"An enthusiastic, entertaining libertarian critique of American politics, brimming with derision for the status quo and optimism for the future and confident of the right direction."
Marginal Revolution, May 20, 2011

"This is 
the
 up-to-date statement of libertarianism.  Not warmed-over right-wing politics, but real, true-blooded libertarianism in the sense of loving liberty and wanting to find a new path toward human flourishing."
Washington Examiner, June 26, 2011
"An important book and lively read."
Forbes.com, July 4, 2011
"A fun and ultimately positive look at how anti-authoritarianism, entrepreneurship and independence have led to one revolution after another in the way we think about the world, the products we buy, and the jobs we end up getting (or creating for ourselves)…. It's a good book, a well-written, easily accessible manifesto on how libertarian ideas and anti-authoritarianism can help change the world, and how they will one way or another, whether we like it or not. Just as importantly, the book is uplifting, optimistic and full of energy."
RealClearPolitics, July 5, 2011
"The Declaration of Independents is a refreshing political book in that it kind of, well, hates politics, and it's worth reading on this issue alone…. An important read with solid insight into today's political mess…. Gillespie and Welch are full of optimism for the future."
Washington Post, July 29, 2011
"
The Declaration of Independents
is suitable reading for this summer of debt-ceiling debate, which has been a proxy for a bigger debate, which is about nothing less than this: What should be the nature of the American regime? America is moving in the libertarians' direction not because they have won an argument but because government and the sectors it dominates have made themselves ludicrous. This has, however, opened minds to the libertarians' argument." 
Atlantic.com, August 2, 2011
"Refreshing, especially among political tomes, for several reasons: it offers an original but plausible take on recent history, doesn't blame a partisan enemy for all that ails America, and advances an argument too complicated to fully convey in a review."
Barron's, July 2, 2011"The authors create an inspiring vision for how we might move beyond the shackles of government control in many areas of our lives… a rollicking tale."
Advertisement