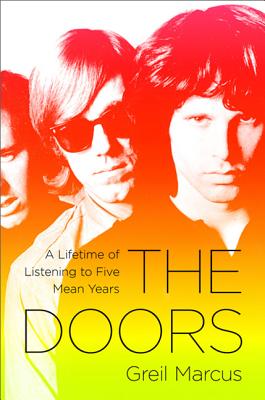 The Doors: A Lifetime of Listening to Five Mean Years (Hardcover)
A Lifetime of Listening to Five Mean Years
PublicAffairs, 9781586489458, 210pp.
Publication Date: November 1, 2011
* Individual store prices may vary.
or
Not Currently Available for Direct Purchase
Description
A fan from the moment the Doors' first album took over KMPX, the revolutionary FM rock & roll station in San Francisco, Greil Marcus saw the band many times at the legendary Fillmore Auditorium and the Avalon Ballroom in 1967. Five years later it was all over. Forty years after the singer Jim Morrison was found dead in Paris and the group disbanded, one could drive from here to there, changing from one FM pop station to another, and be all but guaranteed to hear two, three, four Doors songs in an hourevery hour. Whatever the demands in the music, they remained unsatisfied, in the largest sense unfinished, and absolutely alive. There have been many books on the Doors. This is the first to bypass their myth, their mystique, and the death cult of both Jim Morrison and the era he was made to personify, and focus solely on the music. It is a story untold; all these years later, it is a new story.
About the Author
Greil Marcus is the author of Bob Dylan by Greil Marcus, When that Rough God Goes Riding, The Shape of Things to Come, Mystery Train, Dead Elvis, In the Fascist Bathroom, Double Trouble, Like a Rolling Stone, and The Old Weird America; a twentieth anniversary edition of his book Lipstick Traces was published in 2009. With Werner Sollors he is the editor of A New Literary History of America, published last year by Harvard University Press. Since 2000 he has taught at Princeton, Berkeley, Minnesota, and the New School in New York; his column "Real Life Rock Top 10" appears regularly in The Believer. He has lectured at U Cal, Berkeley, The Whitney Museum of Art, and Princeton University. He lives in Berkeley.
Praise For The Doors: A Lifetime of Listening to Five Mean Years…
San Antonio Express-News, August 28, 2011
"With an astounding breadth of knowledge, Marcus unmasks The Doors in his latest missive from the cultural trenches."
Publishers Weekly
, September 5, 2011
"Music critic Marcus offers a relentlessly beautiful and insightful evaluation of the music of the Doors ... but also a complete rethinking of the Doors' work as an entire story that captures the 1960s as 'a place, even as it is created, people know they can never really inhabit, and never escape'.... He contrasts a fascinating range of official and bootleg live recordings of such hit singles as "Touch Me" to show that by 1970 'a war between the band and its audience was underway, a war whose weapon were contempt on both sides.' This is an impressive tribute." 
LA Magazine
, November 2011
"[A] fine new book…. Published on the anniversary of the band's last album and its singer's death in Paris, the book comes to grips with the Doors without being derailed by the legacy of the egomaniac behind the microphone…. His passage on 'Light My Fire' is the best ever written about a record that most people barely can hear in an old way anymore let alone a new one."
The Daily, October 29, 2011
'"Writing about music is like dancing about architecture,' goes a famously derisive quote whose provenance is mysterious but which is often attributed to Elvis Costello. Greil Marcus' body of work stands as a repudiation of that quote as well as, perhaps, its embodiment…. While he's unsparing in his criticism of the band's lesser work, Marcus holds out the possibility that at their best, the Doors hit on something much greater than themselves."
San Francisco Chronicle, November 6, 2011
"When Marcus is full-on into ecstatic writing mode, spending several pages at a time detailing the most minuscule subtleties of a performance - and this book is all about the Doors as a performing band, more than as writers or icons - the rush is more than contagious.… The way Marcus is able to construct an engaging narrative out of a tune that was recorded on a lousy cassette recorder in the middle of an ancient auditorium produces small miracles of revelatory rock writing…. And, suddenly, Marcus does make you remember what an anomaly their particular brand of noir was in the late '60s ... along with how few of today's Phish bootlegs will be prompting entire books in the 2050s. Marcus is just the discriminating wheat-from-chaff separator the Doors have long been in need of to reconfirm their legend among the intelligentsia."
Globe & Mail, November 6, 2011
"A passionate book, with Marcus focusing on 15 or so songs in the Doors' canon, combining a whole lot of close listening with an erudition alternately staggering and bewildering. Marcus clearly loves the Doors, but not unreservedly."
New York Times, November 16, 2011
"Reading Mr. Marcus at his best — on Bob Dylan, Van Morrison, Sly Stone, the Band, Sleater-Kinney, Dock Boggs or Randy Newman, to name just a few of his obsessions over the years — is like watching a surfer glide shakily down the wall of an 80-foot wave, disappear under a curl for a deathly eternity, then soar out the other end. You practically feel like applauding. He makes you run to your iPod with an ungodly itch in your cranium. You want to hear what he hears. It's as if he were daring you to get as much out of the music as he does. Mr. Marcus's acute and ardent new book, The Doors: A Lifetime of Listening to Five Mean Years, is his 13th and among his best…. Mr. Marcus's achievement in The Doors is to isolate and resurrect this band's best music and set it adrift in a swirling and literate cultural context…. The Doors will never mean to me what they mean to Mr. Marcus. But this book means more to me than most rock books."

B&N Review, November 16, 2011
"The Doors is a reflection on the Doors' music in time and over time -- and it is a book about the band like no other."
VanityFair.com
"Just My Type" 12/11:  "Greil Marcus, music critic, cultural historian, infinite riffer and groover, has a gift for sweeping readers up in his passions…. Reading the book gives the experience of being in the studio with the band: the world outside still exists, but we're safe in the booth—no background noise, or groupies, or memories of Mother. Just us, the music, and Marcus. It's a pleasure." 
Washington Post
"Prosey, frequently brilliant…. Marcus has the ability to play tour guide in the places we think we already know. It's exactly what makes him one of the greatest music scribes to ever do the job, and it's what makes this book worth reading, love or hate the Doors."
Financial Times"A combustible combination: Greil Marcus, America's wide-ranging and uninhibited rock historian, has turned his attentions to The Doors, the 1960s supergroup which draped its dark, gothic themes over the latter part of that decade…. Marcus's book, like its predecessors, is far from an orthodox biography or cultural analysis. He riffs like the meanest of guitarists, with erudite passion and bold, imaginative leaps."
Advertisement