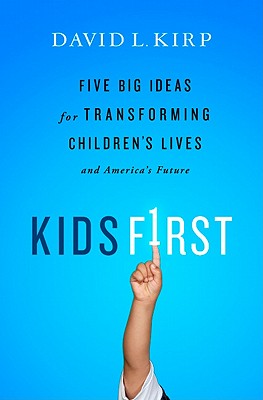 Kids First: Five Big Ideas for Transforming Children's Lives and America's Future (Hardcover)
Five Big Ideas for Transforming Children's Lives and America's Future
PublicAffairs, 9781586489472, 288pp.
Publication Date: March 1, 2011
* Individual store prices may vary.
or
Not Currently Available for Direct Purchase
Description
A visionary call for renewing, revamping, and re-energizing public support for children--and why doing so is essential to America's future
About the Author
David L. Kirp is a professor at the Goldman School of Public Policy at the University of California at Berkeley. He taught at the Harvard Graduate School of Education and was founding director of the Harvard Center on Law and Education. He recently served on President Obama's transition team. His most recent books are The Sandbox Investment: The Preschool Movement and Kids-First Politics and Shakespeare, Einstein, and the Bottom Line: The Marketing of Higher Education.
Praise For Kids First: Five Big Ideas for Transforming Children's Lives and America's Future…
Kirkus
"An important, well-researched wake-up call, and any part of it that educators and lawmakers take into account is worthwhile"

Diane Ravitch, Author of The Death and Life of the Great American School System
"David Kirp's book could change the policy debate about how to improve the lives of children. It's smart, sharp, and clear about what we need to do to lift the kids who need help the most."

Robert B. Reich, Former U.S. Secretary of Labor and Chancellor's Professor Public Policy, University of California, Berkeley
"In an era when answers to America's myriad social problems seem dismally remote, David Kirp comes to the rescue with important ideas for giving our kids better lives. Kirp thinks big, writes beautifully, and compels our attention. His agenda is practical and necessary. And if America's children had any political clout, they'd demand it."

Edward Zigler, Sterling Professor of Psychology, Emeritus, Yale University
"David Kirp is a leading scholar who in this book provides us with a knowledge-based, cradle-to-college agenda that merits the attention of every parent and policymaker in America."
Randi Weingarten
"Kids First is an eye-opener, a Lasik-like procedure to cure the tunnel vision that afflicts many of those who fancy themselves education experts. Kirp shines a light on what we need to do outside of schools even as we seek to redesign our schools to prepare students to succeed in today's fast-changing world."
Kirkus, January 15, 2011
"An important, well-researched wake-up call, and any part of it that educators and lawmakers take into account is worthwhile." 
Advertisement