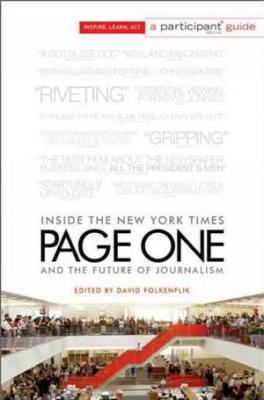 Page One
Inside The New York Times and the Future of Journalism
Paperback

* Individual store prices may vary.
Description
The news media is in the middle of a revolution. Old certainties have been shoved aside by new entities such as WikiLeaks and Gawker, Politico and the Huffington Post. But where, in all this digital innovation, is the future of great journalism? Is there a difference between an opinion column and a blog, a reporter and a social networker? Who curates the news, or should it be streamed unimpeded by editorial influence?

Expanding on Andrew Rossi's "riveting" film (Slate), David Folkenflik has convened some of the smartest media savants to talk about the present and the future of news. Behind all the debate is the presence of the New York Times, and the inside story of its attempt to navigate the new world, embracing the immediacy of the web without straying from a commitment to accurate reporting and analysis that provides the paper with its own definition of what it is there to showcase: all the news that's fit to print.
Praise For Page One: Inside The New York Times and the Future of Journalism…
Philadelphia Review of Books"Folkenflik's book brings important topics like digitization, collaboration and new economic models to light."
PublicAffairs, 9781586489601, 208pp.
Publication Date: June 28, 2011
About the Author
Award-winning journalist David Folkenflik has been NPR's media correspondent since 2004. He previously covered media and politics for the Baltimore Sun and edited the 2011 book Page One: Inside The New York Times and the Future of Journalism. He has covered Murdoch and News Corp extensively and has been a frequent commentator on the hacking scandal in both the US and the UK. Folkenflik lives with his wife, the radio producer Jesse Baker, and their daughter in New York City.
or
Not Currently Available for Direct Purchase