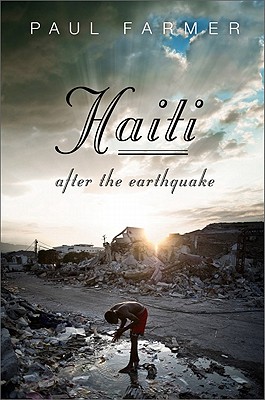 Haiti After the Earthquake (Hardcover)
PublicAffairs, 9781586489731, 456pp.
Publication Date: January 1, 2011
* Individual store prices may vary.
or
Not Currently Available for Direct Purchase
Description
On January 12, 2010 a massive earthquake laid waste to Port-au-Prince, Haiti, killing hundreds of thousands of people. Within three days, Dr. Paul Farmer arrived in the Haitian capital, along with a team of volunteers, to lend his services to the injured.
In this vivid narrative, Farmer describes the incredible suffering--and resilience--that he encountered in Haiti. Having worked in the country for nearly thirty years, he skillfully explores the social issues that made Haiti so vulnerable to the earthquake--the very issues that make it an "unnatural disaster." Complementing his account are stories from other doctors, volunteers, and earthquake survivors.
Haiti After the Earthquake will both inform and inspire readers to stand with the Haitian people against the profound economic and social injustices that formed the fault line for this disaster.
About the Author
Paul Farmer is the UN Deputy Special Envoy for Haiti and Chair of the Department of Global Health and Social Medicine at Harvard Medical School. He is also Chief of the Division of Global Health Equity at Boston's Brigham and Women's Hospital, and co-founder of Partners In Health. Among his numerous awards and honors is the John D. and Catherine T. MacArthur Foundation's "genius award."
Praise For Haiti After the Earthquake…
President Bill Clinton
"A gripping recollection of the quake's ruin, chaos, and despair, and the story of remarkable persistence, hope, and love in the aftermath.  Once you've seen Haiti through Paul Farmer's eyes, you'll never see Haitians, or any of the world's poorest people, quite the same way again."

Adam Hochschild
"Profoundly moving....An urgent dispatch from the front by one of our finest warriors for social justice.  With eloquence and wisdom, Paul Farmer shows how we cannot fully comprehend one of the great natural disasters of history without understanding the man-made suffering that Americans and others have inflicted on Haiti."
Madison Capital Times, July 14, 2011
"Through the sharing of his experiences and the essays of fellow relief workers and survivors, the book serves as both a first draft of history and a call to action for rebuilding a country devastated by natural and unnatural disasters… Farmer deftly tells the story of his multiple roles - doctor, administrator and diplomat... His writing remains accessible, revealing hope amid criticism and providing touches of humor in a unique personal narrative… "Haiti After the Earthquake" provides a relevant and engaging look into how Farmer sees the world. Readers will empathize with his anger over Haiti's suffering as well as appreciate his insistence that the disaster should open the way for serious development and rebuilding in a country long ignored." 
Financial Times, July 16, 2011
"Paul Farmer, doctor and aid worker, offers an inspiring insider's view of the relief effort." 
Wyclef Jean, September 20, 2011
"The book accomplishes a sense of just keeping Haiti fresh in your mind. The disaster's not over. They're a people that have lost 250 million people, with 500,000 still living in tents. This book is a reminder of that."
Coverage from NPR
Advertisement