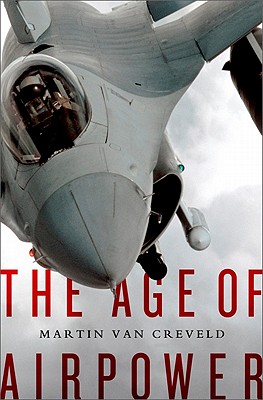 The Age of Airpower (Hardcover)
PublicAffairs, 9781586489816, 512pp.
Publication Date: May 1, 2011
* Individual store prices may vary.
or
Not Currently Available for Direct Purchase
Description
A renowned military historian tells the story of airpower's rise in the twentieth century-- and argues that its great days are over
About the Author
Martin van Creveld is an internationally recognized authority on military history and strategy, and is professor emeritus of history at the Hebrew University, Jerusalem. The author of eighteen books, translated into ten languages, he has lectured or taught at virtually every strategic institute, military or civilian, in the Western world, including the U.S. Naval War College.
Praise For The Age of Airpower…
Kirkus, January 15, 2011
"A polished, readable narrative."
New York Times Book Review, April 24, 2011

"As Martin van Creveld shows in this brisk, original and authoritative history, since it's zenith during World War II, when two United States B-29s ended the global struggle by dropping their payloads on Hiroshima and Nagasaki, the value of air power has largely fizzled…I hope that this spring, van Creveld's timely book will remind NATO leaders supervising the bombing campaign in the Libyan civil war of how often in history we have watched air power lead unexpectedly to ground fighting on quicksand."  
Library Journal

"A brilliantly formulated, exhaustively researched, and engagingly written critique of America's once vaunted military service, this is sure to arouse much controversy among interested parties." 
Foreign Affairs, May/June 2011

"A new book from Van Creveld is always something to be savored.  There have been many previous histories of airpower, but none so comprehensive and sensitive to context as this one." 
Cleveland Plain Dealer, May 17, 2011
"Martin van Creveld's new book is sure to enlighten….[It] comprehensively surveys the rise and evolution of aerial warfare from the dawn of the 20th century to our own day. No conflict or air-power variant seems to have escaped van Creveld's formidable attention. He covers naval aviation, helicopters, remotely piloted vehicles ("drones") and space. This volume, like the others produced by van Creveld, deserves a place on the bookshelf of any serious student of military affairs." 
New York Times, April 30, 2011
"Martin van Creveld's work is always worth reading. 'The Age of Airpower' is equal parts historical survey, idiosyncratic editorializing, and bold prediction. Airpower advocates and critics alike need to engage with this book."
CHOICE, August 2011
"Morozov (contributing editor, Foreign Policy) takes on the "Google Doctrine," the enthusiastic belief in the liberating power of technology to promote democracy and improve human life. He rightly points out that technology is almost always a double-edged sword guided by the hopes and fears of users and regulators more than by the inherent characteristics of the technology itself. He provides numerous examples of how authoritarian regimes have used technology to track people, thwarting privacy and basic freedoms. By pointing out that social problems are seldom, if ever, "solved" by technology and that building public policy around technological fixes diverts attention from the root causes, the book is a good antidote to the optimistic technological determinists."
Midwest Book Review, June 2011

"No military collection should be without this" 
Survival: Global Politics and Strategy
,
August/September 2011
The latest opus by Martin van Creveld, one of the leading contemporary theorists of military affairs, is a massive (500 pages) and comprehensive compendium on air power. A work of history more than of theory, this fact rich book is written in an unadorned, plain style, punctuated by occasional bouts of the author's trademark wit.
The Age of Airpower
succeeds… whatever one thinks of the author's main thesis." 
Airforce Magazine

"Van Creveld does a creditable job surveying the broad and complex history of airpower in military operations."
CHOICE, November 2011
"Valuable…highly recommended."
Marine Corps Gazette, January 2011
"When Martin van Creveld speaks, people listen. His thoughtful works on military theory and history continually seek to challenge conventional wisdom. His insights and arguments are profound and substantial enough that even if one does not agree, they cannot be dismissed; they must be countered. Van Creveld's latest book, The Age of Airpower, is another such work. [It] expertly and effectively continues Van Creveld's work of championing transformation, challenging militaries to think about what they are designed to do vice what they are actually doing—the threats they prepare for versus the threats they are actually facing and/or are likely to face….A must-read."
Advertisement