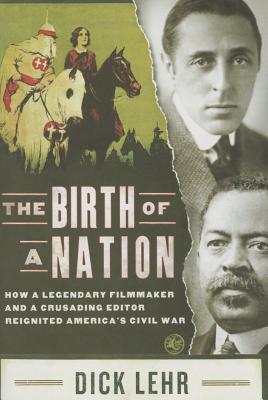 The Birth of a Nation
How a Legendary Filmmaker and a Crusading Editor Reignited America's Civil War
Hardcover

* Individual store prices may vary.
Description
In 1915, two men -- one a journalist agitator, the other a technically brilliant filmmaker -- incited a public confrontation that roiled America, pitting black against white, Hollywood against Boston, and free speech against civil rights.

Monroe Trotter and D. W. Griffith were fighting over a film that dramatized the Civil War and Reconstruction in a post-Confederate South. Almost fifty years earlier, Monroe's father, James, was a sergeant in an all-black Union regiment that marched into Charleston, South Carolina, just as the Kentucky cavalry -- including Roaring Jack Griffith, D. W.'s father -- fled for their lives. Griffith's film, The Birth of a Nation, included actors in blackface, heroic portraits of Knights of the Ku Klux Klan, and a depiction of Lincoln's assassination. Freed slaves were portrayed as villainous, vengeful, slovenly, and dangerous to the sanctity of American values. It was tremendously successful, eventually seen by 25 million Americans. But violent protests against the film flared up across the country.

Monroe Trotter's titanic crusade to have the film censored became a blueprint for dissent during the 1950s and 1960s. This is the fiery story of a revolutionary moment for mass media and the nascent civil rights movement, and the men clashing over the cultural and political soul of a still-young America standing at the cusp of its greatest days.
Praise For The Birth of a Nation: How a Legendary Filmmaker and a Crusading Editor Reignited America's Civil War…
"No red-blooded American of today would favor censoring works of art. But while reading Dick Lehr's fascinating new book, The Birth of a Nation, you may find yourself rooting for just that." —Washington Post

"A notable new book" —Boston Globe

"Lively and well-researched" —Wall Street Journal

"The Birth of a Nation is an important account of a volatile moment in the eternal debate over how a free country regulates unpleasant expressions of those freedoms."—Atlanta Journal-Constitution

"…a remarkable look at the power of mass media and the nascent civil rights movement at a pivotal time in American history." —Booklist, STARRED review

"Lehr's fascinating portrait of simmering American racial tensions moving into the early 20th century, and his spotlight on men and women who, intentionally or not, helped galvanize painful and necessary conversations about civil rights, race relations, and the power of mass media for decades to come." —Library Journal, STARRED review

"A powerful rendering of an enduring conflict."— Kirkus Reviews, STARRED review

PublicAffairs, 9781586489878, 368pp.
Publication Date: November 4, 2014
About the Author
Dick Lehr, a professor of journalism at Boston University, has won numerous national and regional journalism awards. He is a former investigative reporter, legal affairs, and magazine writer for the Boston Globe, where he was a Pulitzer Prize finalist in investigative reporting. He is the author of The Fence: A Police Cover-up along Boston's Racial Divide, an Edgar Award finalist for best nonfiction, and coauthor of the New York Times bestseller and Edgar Award winner Black Mass: Whitey Bulger, the FBI, and a Devil's Deal, and its sequel, Whitey: The Life of America's Most Notorious Mob Boss. He lives outside Boston with his wife and four children.
or
Not Currently Available for Direct Purchase