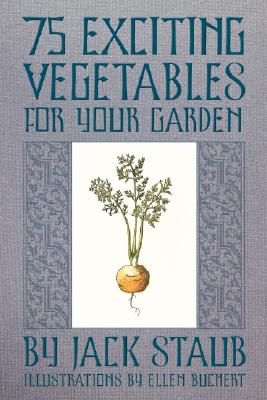 75 Exciting Vegetables for Your Garden (Hardcover)
Gibbs Smith Publishers, 9781586852504, 240pp.
Publication Date: March 16, 2005
* Individual store prices may vary.
or
Not Currently Available for Direct Purchase
Description
Seventy-five eminently beautiful fruits and vegetables are profiled in this charming new book by expert gardener and garden designer Jack Staub. Discover produce you'll likely not see in the local supermarket, including the Asparagus Bean, Green Zebra Tomato, Prescott Fond Blanc Melon, Purple Sprouting Broccoli, True Lemon Cucumber, Turkish Orange Eggplant, and many more. Staub seeks not only to infuse America's backyard gardens with color and variety, but to enlighten and amuse with amiable text, surprising history, scraps of unexpected lore, and tidbits of culinary insight.
Unique in content and tone, 75 Extraordinary Vegetables shares the history, evolution, and details about each vegetable, and then provides simple solutions for using them in the kitchen every day. Be they heirloom or hybrid, native or transplant, Staub presents seventy-five really superb vegetables in current culture that are as exciting for their physical beauty as they are for their taste.
Jack Staub is widely considered to be one of the country's leading experts on vegetables and vegetable gardening style. He has written for and been featured in many of this country's top gardening and lifestyle publications (House & Garden, House Beautiful, Organic Gardening, Horticulture, Victoria, Country Living Gardener, Kitchen Gardener, and Food & Wine), and his articles and lectures have helped to re-popularize the ancient art of kitchen gardening, and introduce many new vegetable varieties to gardeners across America. His celebrated gardens at Hortulus Farm in Pennsylvania have also been featured in a Time-Warner series on organic gardening. Ellen Sheppard Buchert first learned technical drawing at Keuka College in 1964. She returned to school and finished her Bachelor's degree when she was 56 years old. Each of these illustrations was drawn in pen and ink and colored with watercolor paints on cotton museum board. Her work has been exhibited in Canada and the United States. She lives in Utah.
Advertisement