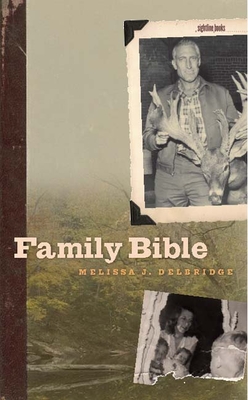 Family Bible (Sightline Books) (Paperback)
University Of Iowa Press, 9781587298745, 168pp.
Publication Date: April 1, 2010
Other Editions of This Title:
Hardcover (4/15/2008)
* Individual store prices may vary.
Description
"Swimming and sex seemed a lot alike to me when I was growing up. You took off most of your clothes to do them and you only did them with people who were the same color as you. As your daddy got richer, you got to do them in fancier places." Starting with her father, who never met a whitetail buck he couldn't shoot, a whiskey bottle he couldn't empty, or a woman he couldn't charm, and her mother, who "invented road rage before 1960," Melissa Delbridge introduces us to the people in her own family bible. Readers will find elements of Southern Gothic and familiar vernacular characters, but Delbridge endows each with her startling and original interpretation. In this disarmingly unguarded and unapologetic memoir, she shows us what really happened in the "stew of religion and sex" that was 1960s Tuscaloosa.
About the Author
Melissa Delbridge has published essays and short stories in the "Antioch Review," "Southern Humanities Review," "Third Coast," and other journals. She works as an archivist at Duke University. Delbridge lives with her family in Orange County, North Carolina, where she spends her leisure time letting the dogs in and out, making pickles, plotting vengeance, substantiating rumors, and working on a novel. "
Praise For Family Bible (Sightline Books)…
"Delbridge knows sorrow like she knows the rhythm of her own heart. . . . Fans of Carson McCullers won't want to miss this one—witty, tragic, and relentlessly wise."—Booklist, starred review
"Melissa Delbridge's memories of her early life are dead-accurate, hilarious, and tragic and will surely prove enduring as a guide to the Deepest South—a place and a culture that continue to prove alarmingly vital. I mean to keep the book handy, for pleasure and real guidance."—Reynolds Price