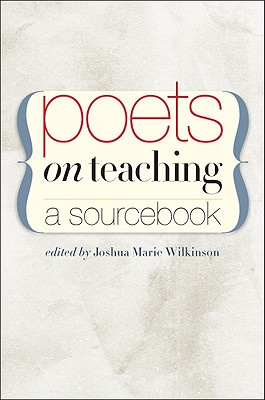 Poets on Teaching (Paperback)
A Sourcebook
University of Iowa Press, 9781587299049, 323pp.
Publication Date: August 28, 2010
* Individual store prices may vary.
Description
In response to a lack of source works for wide-ranging approaches to teaching poetry, award-winning poet Joshua Marie Wilkinson has gathered ninety-nine micro-essays for poets, critics, and scholars who teach and for students who wish to learn about the many ways poets think about how a poem comes alive from within--and beyond--a classroom. Not narrowly concerned with how to read poetry or how to write poetry, by virtue of their central concern with teaching poetry, the essays in this fresh and innovative volume address both reading and writing and give teachers and students useful tools for the classroom and beyond.
Divided into four sections--"Reflections / Poetics," "Exercises / Praxis," "New Approaches to Poetry Courses and Methodology," and "Talks / Directives"--Poets on Teaching provides practical, intelligent advice. "Reflections / Poetics" encompasses the most expansive approaches to teaching poetry, where poets reflect variously on what teachers can cultivate in their classrooms. "Exercises / Praxis" consists of hands-on approaches to reading and, especially, writing poems. "New Approaches to Poetry Courses and Methodology" features essays on rethinking specific courses, offering new ideas for course design and pedagogy. "Talks / Directives" contains a series of more informal and conversational discussions geared toward becoming a stronger reader, writer, teacher, and student of poetry. Poets on Teaching will be required reading for new and experienced teachers alike.
Contributors:
Kazim Ali, Rae Armantrout, Hadara Bar-Nadav, Dan Beachy-Quick, Bruce Beasley, Claire Becker, Jaswinder Bolina, Jenny Boully, Joel Brouwer, Lily Brown, Laynie Browne, Stephen Burt, Julie Carr, Joshua Clover, Matthew Cooperman, Oliver de la Paz, Linh Dinh, Ben Doller, Sandra Doller, Julie Doxsee, Lisa Fishman, Graham Foust, John Gallaher, Forrest Gander, C. S. Giscombe, Peter Gizzi, Lara Glenum, Kenneth Goldsmith, Johannes Goransson, Noah Eli Gordon, Arielle Greenberg, Richard Greenfield, Sarah Gridley, Anthony Hawley, Terrance Hayes, Eric Hayot, Brian Henry, Brenda Hillman, Jen Hofer, Paul Hoover, Christine Hume, Brenda Iijima, Lisa Jarnot, Kent Johnson, Bhanu Kapil, Karla Kelsey, Aaron Kunin, Quraysh Ali Lansana, Dorothea Lasky, Sueyeun Juliette Lee, Ada Limon, Timothy Liu, Sabrina Orah Mark, Dawn Lundy Martin, Kristi Maxwell, Joyelle McSweeney, Christina Mengert, Albert Mobilio, K. Silem Mohammad, Fred Moten, Jennifer Moxley, Laura Mullen, Sawako Nakayasu, Aimee Nezhukumatathil, Hoa Nguyen, Jena Osman, D. A. Powell, Kristin Prevallet, Bin Ramke, Jed Rasula, Srikanth Reddy, Barbara Jane Reyes, Boyer Rickel, Elizabeth Robinson, Martha Ronk, Emily Rosko, Prageeta Sharma, Evie Shockley, Eleni Sikelianos, Richard Siken, Ron Silliman, Tracy K. Smith, Juliana Spahr, Sasha Steensen, Peter Streckfus, Cole Swensen, Michael Theune, Tony Trigilio, Spring Ulmer, Karen Volkman, Catherine Wagner, G. C. Waldrep, Mark Wallace, Tyrone Williams, Mark Yakich, Jake Adam York, Stephanie Young, Timothy Yu, Matthew Zapruder, Andrew Zawacki, and Rachel Zucker
About the Author
Joshua Marie Wilkinson's Lug Your Careless Body out of the Careful Dusk won the Iowa Poetry Prize in 2005. His other poetry collections include Selenography and The Book of Whispering in the Projection Booth, among others. With Christina Mengert, he edited 12 12: Conversations in 21st-Century Poetry and Poetics (Iowa, 2009). He is an assistant professor of English at Loyola University Chicago.