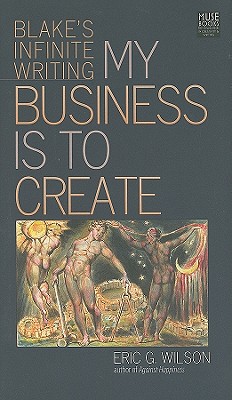 My Business Is to Create (Hardcover)
Blake's Infinite Writing (Muse Books)
University Of Iowa Press, 9781587299902, 112pp.
Publication Date: May 1, 2011
* Individual store prices may vary.
Description
For William Blake, living is creating, conforming is death, and "the imagination . . . is the Human Existence itself." But why are imagination and creation—so vital for Blake—essential for becoming human? And what is imagination? What is creation? How do we create? Blake had answers for these questions, both in word and in deed, answers that serve as potent teachings for aspiring writers and accomplished ones alike. Eric G. Wilson's My Business Is to Create emulates Blake, presenting the great figure's theory of creativity as well as the practices it implies.
      In both his life and his art, Blake provided a powerful example of creativity at any cost—in the face of misunderstanding, neglect, loneliness, poverty, even accusations of insanity. Just as Los cries out in Jerusalem: The Emanation of the Giant Albion, "I must Create a System, or be enslav'd by another Man's; / I will not Reason and Compare: my business is to Create," generations of writers and artists as diverse as John Ruskin, William Butler Yeats, Allen Ginsberg, Philip K. Dick, songwriter Patti Smith, the avant-garde filmmaker Jim Jarmusch, and the underground comic-book artist R. Crumb have taken Blake's creed as inspiration.
      Unwilling to cede his vision, Blake did more than simply produce iconoclastic poems and paintings; he also cleared a path toward spiritual and ethical enlightenment. To fashion powerful art is to realize the God within and thus to feel connected with enduring vitality and abundant generosity. This is Blake's everlasting gospel, distilled here in an artist's handbook of interest to scholars, writing teachers, and those who have made writing their way of life. My Business Is to Create is indispensable for all serious artists who want to transform their lives into art and make their art more alive.
About the Author
Eric G. Wilson is the Thomas H. Pritchard Professor of English at Wake Forest University. He is the author of "Against Happiness: In Praise of Melancholy" and "The Mercy of Eternity: A Memoir of Depression and Grace." He is also the author of "The Strange World of David Lynch," "Secret Cinema: Gnostic Vision in Film," "The Melancholy Android: On the Psychology of Sacred Machines," "Coleridge s Melancholia: An Anatomy of Limbo," "The Spiritual History of Ice," "Romantic Turbulence," and "Emerson s Sublime Science.""
Praise For My Business Is to Create: Blake's Infinite Writing (Muse Books)…
"This is, to put it simply, a gorgeous book, a how-to manual for the aspiring or the already accomplished writer alike. Moving lightly from the most basic principles of Blake's visionary practice to the poet's mysticism to what keeps the creative visionary going—hope—Eric Wilson, in a sense, becomes Blake: as he writes, 'If you're going to get the spirit of Blake, you have to be, in your own way, Blake.' My Business Is to Create is a marvelous, beautiful, profound little book from an astonishing intellect and writer."—Jeffrey Kripal, author, Kali's Child and Authors of the Impossible: The Paranormal and the Sacred
"Blake was the comet announcing modern romantic creativity. 'Energy,' he said, 'is the only life and is from the body.' Eric Wilson's splendid little book is as visionary in its way as Blake's own work. Not just another handbook for the workaday wordsmith, this book, like others in this series, is for those who want to wrestle with angels, who intend to come into port greatly or go down trying."—Robert D. Richardson
"A risky and exhilarating adventure in reading Blake as a spiritual guide. Writers and artists and maybe ecologists will find treasures here."—Ursula K. Le Guin