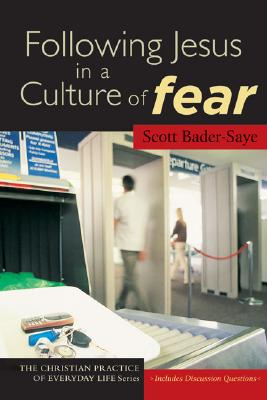 Following Jesus in a Culture of Fear (Christian Practice of Everyday Life)
Paperback

* Individual store prices may vary.
Other Editions of This Title:
Hardcover (11/3/2020)
Description
Through politics, marketing, news programming, and popular culture we are taught to fear, often in ways that profit others. But what does all this fear do to our moral lives as it forms (or deforms) our character and our judgment? Drawing on Christian scripture and tradition, Following Jesus in a Culture of Fear articulates a response to fear that resists an ethic of security in favor of fostering an ethic of risk. The Christian virtues of hospitality, peacefulness, and generosity are presented as the way to defeat the counter-virtues of suspicion, preemption, and control. Pastors, students, and lay people will find this unique book both accessible and intriguing.

EXCERPT

Do not be afraid. We live in a time when this biblical refrain cannot be repeated too often. Both John Paul II in 1978 and his successor, Benedict XVI, in 2005 used these words to begin their papacies. Among all the things the church has to say to the world today, this may be the most important. No one has to be convinced that we live in fearful times, though we are not always sure what we should be afraid of and why. We suspect that our fears make us vulnerable to manipulation, but we find it hard to quell the fear long enough to analyze how it is being produced and directed for the benefit of others.

One reason we are a more fearful culture today, despite the fact that the dangers are not objectively greater than in the past, is because some people have incentives and means to heighten, manipulate, and exploit our fears. Fear is a strong motivator, and so those who want and need to motivate others--politicians, advertisers, media executives, advocacy groups, even the church--turn to fear to bolster their message. I call this the "fear for profit" syndrome, and it is rampant. We have become preoccupied with unlikely dangers that take on the status of imminent threats, producing a culture where fear determines a disproportionate number of our personal and communal decisions. The sense of ever-increasing threats can overwhelm our ability to evaluate and respond proportionately to each new risk, thus we allow fear to overdetermine our actions.
Brazos Press, 9781587431920, 169pp.
Publication Date: June 1, 2007
About the Author
Scott Bader-Saye (PhD, Duke University) holds the Helen and Everett H. Jones Chair in Christian Ethics and Moral Theology at Seminary of the Southwest in Austin, Texas. He is the author of Church and Israel after Christendom: The Politics of Election.
or
Not Currently Available for Direct Purchase