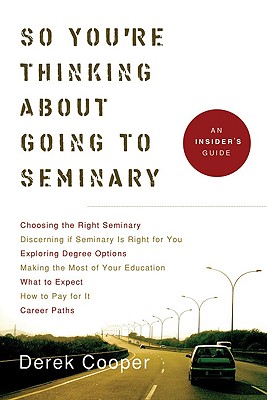 So You're Thinking about Going to Seminary: An Insider's Guide to Seminary (Paperback)
An Insider's Guide to Seminary
Brazos Press, 9781587432149, 231pp.
Publication Date: November 1, 2008
* Individual store prices may vary.
or
Not Currently Available for Direct Purchase
Description
I think I want to go to seminary, but is seminary right for me? What is seminary like? How do I figure out where to go? If you or someone you know or counsel is asking these questions, this book is for you. A true insider, Derek Cooper answers the questions of anyone considering or just starting seminary. He explains what seminary is, how to research and choose the right school, what the different degrees offer, how to pay for it, the meaning of different theological terms, and what to expect once you arrive. The only book of its kind, this engaging, insightful, and user-friendly guide will help prospective students make wise choices and beginning students overcome uncertainty as they begin this life-changing experience. EXCERPT Theological education has actually changed considerably over the past few decades from the traditional classroom full of men wearing ties and slacks to the contemporary classroom full of women and men dressed in shorts and sandals. Although there still are many traditional schools available to you--if that is your persuasion--it is not necessarily your parents' seminary any more. This is because seminary education has evolved like everything else with the changing culture in North America. Seminaries in the twenty-first century differ in many ways from seminaries of the twentieth-century--which is one reason why a guide to seminary is now necessary.

Advertisement