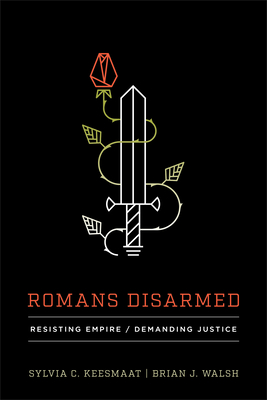 Romans Disarmed
Resisting Empire, Demanding Justice
Paperback

* Individual store prices may vary.
Other Editions of This Title:
Hardcover (5/21/2019)
Description
Globalization. Homelessness. Ecological and economic crisis. Conflicts over sexuality. Violence. These crisis-level issues may seem unique to our times, but Paul's Letter to the Romans has something to say to all of them.

Following their successful Colossians Remixed, Sylvia Keesmaat and Brian Walsh unpack the meaning of Romans for its original context and for today. The authors demonstrate how Romans disarms the political, economic, and cultural power of the Roman Empire and how this ancient letter offers hope in today's crisis-laden world.

Romans Disarmed helps readers enter the world of ancient Rome and see how Paul's most radical letter transforms the lives of the marginalized then and now. Intentionally avoiding abstract debates about Paul's theology, Keesmaat and Walsh move back and forth between the present and the past as they explore themes of home, economic justice, creation care, the violence of the state, sexuality, and Indigenous reconciliation. They show how Romans engages with the lived reality of those who suffer from injustice, both in the first century and in the midst of our own imperial realities.
Brazos Press, 9781587432842, 412pp.
Publication Date: May 21, 2019
About the Author
Sylvia C. Keesmaat (DPhil, University of Oxford) is adjunct professor of biblical studies at Trinity College and Wycliffe College in Toronto, Ontario, and biblical scholar in residence at St. James Anglican Church in Fenelon Falls. She is the author of Paul and His Story: (Re)Interpreting the Exodus Tradition and editor of The Advent of Justice.Brian J. Walsh (PhD, McGill University) serves as a Christian Reformed campus minister at the University of Toronto and is an adjunct professor of theology at Trinity College and Wycliffe College in Toronto, Ontario. He has written numerous books, including Kicking at the Darkness: Bruce Cockburn and the Christian Imagination.Keesmaat and Walsh are coauthors of Colossians Remixed: Subverting the Empire. They live on a solar-powered permaculture farm in Cameron, Ontario.