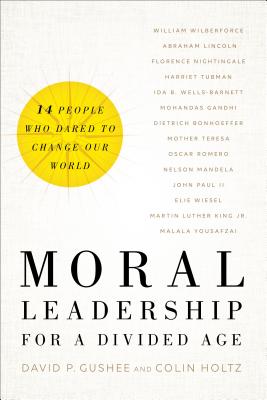 Moral Leadership for a Divided Age (Hardcover)
Fourteen People Who Dared to Change Our World
Brazos Press, 9781587433573, 384pp.
Publication Date: October 16, 2018
Other Editions of This Title:
CD-Audio (10/16/2018)
CD-Audio (10/23/2018)
Pre-Recorded Audio Player (11/16/2018)
* Individual store prices may vary.
Description
Great moral leaders inspire, challenge, and unite us--even in a time of deep divisions. Moral Leadership for a Divided Age explores the lives of fourteen great moral leaders and the wisdom they offer us today. Through skillful storytelling and honest appraisals of their legacies, we encounter exemplary human beings who are flawed in some ways, gifted in others, but unforgettable all the same. The authors tell the stories of remarkable leaders, including Ida B. Wells-Barnett, William Wilberforce, Harriet Tubman, Florence Nightingale, Mohandas Gandhi, Malala Yousafzai, Martin Luther King Jr., Nelson Mandela, Oscar Romero, Pope John Paul II, Elie Wiesel, Mother Teresa, Abraham Lincoln, and Dietrich Bonhoeffer. Short biographies of each leader combine with a tour of their historical context, unique faith, and lasting legacy to paint a vivid picture of moral leadership in action. Exploring these lives makes us better leaders and people and inspires us to dare to change our world.
About the Author
David P. Gushee (PhD, Union Theological Seminary), a leading public Christian voice on ethical issues of our day, is Distinguished University Professor of Christian Ethics and director of the Center for Theology and Public Life at Mercer University in Atlanta, Georgia. He is the author of twenty-two books; has served as a columnist for Religion News Service, Christianity Today, and HuffPost; and has been featured on Krista Tippett's NPR program On Being. Gushee serves as president of the American Academy of Religion and is immediate past president of the Society of Christian Ethics. Colin Holtz, a writer and strategist at the intersection of church and world, is a ten-year veteran of issue advocacy and political campaigns. His writing has been published in the Guardian and HuffPost. He has led national campaigns on education debt and financial regulation, worked with CNN's Crossfire, and served as a senior adviser to Faithful America. He will receive his Master of Divinity from McAfee School of Theology at Mercer University in 2019.