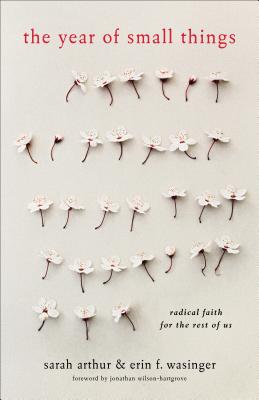 The Year of Small Things
Radical Faith for the Rest of Us
Paperback

* Individual store prices may vary.
Description
When Sarah and Tom Arthur were appointed to a suburban church after three years in an urban Christian community, they faced a unique challenge: how to translate the practices of "radical" faith into their new context. Together with their friends and fellow church members Erin and Dave Wasinger, the Arthurs embarked on a yearlong experiment to implement twelve small practices of radical faith--not waiting until they were out of debt or the kids were out of diapers or God sent them elsewhere, but right now.

This book is Sarah and Erin's story, told with humor, theological reflection, and practical insight, exploring such practices as simplicity, hospitality, accountability, sustainability, and social justice--but, most of all, discernment. Along the way readers will consider how God might be calling them to embark on their own year of small but radical changes, right where God has planted them. Each chapter includes discussion questions and suggested readings. Foreword by Jonathan Wilson-Hartgrove.

For more information, visit www.YearofSmallThings.com](http: //www.YearofSmallThings.com).
Brazos Press, 9781587433825, 240pp.
Publication Date: January 31, 2017
About the Author
Sarah Arthur (MTS, Duke Divinity School) is a fun-loving speaker and the award-winning author or compiler of eleven books, including the best-selling Walking with Frodo: A Devotional Journey through "The Lord of the Rings" and At the Still Point: A Literary Guide to Prayer in Ordinary Time. She has written for such publications as Christianity Today, Her.meneutics, and Image Journal online, and has served as a fiction judge for the Christianity Today Book Awards. She lives in Lansing, Michigan. Visit her website at www.saraharthur.com. Erin F. Wasinger is a freelance writer, speaker, and journalist, having worked as a newspaper editor and columnist before moving to Lansing, Michigan. A voracious reader as well as a storyteller and lay theologian, she writes at www.erinwasinger.com.