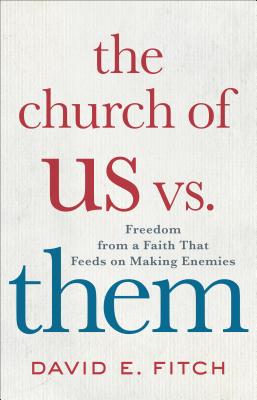 The Church of Us vs. Them
Freedom from a Faith That Feeds on Making Enemies
Hardcover

* Individual store prices may vary.
Description
We are living in angry times. No matter where we go, what we watch, or how we communicate, our culture is rife with conflict. Unfortunately, Christians appear to be caught up in the same animosity as the culture at large. We are perceived as angry, judgmental, and defensive, fighting among ourselves in various media while the world looks on. How have we failed to be a people of reconciliation and renewal in the face of such tumult?

Claiming that the church has lost itself in the grip of an antagonistic culture, David Fitch takes a close look at what drives the vitriol in our congregations. He traces the enemy-making patterns in church history and diagnoses the divisiveness that marks the contemporary evangelical church. Fitch shows a way for the church to be true to itself, unwinding the antagonisms of our day and making space for Christ's reconciling presence in our day-to-day lives. He offers new patterns and practices that move the church beyond making enemies to being the presence of Christ in the world, helping us free ourselves from a faith that feeds on division.
Brazos Press, 9781587434143, 224pp.
Publication Date: July 16, 2019
About the Author
David E. Fitch (PhD, Northwestern University) is the B. R. Lindner Chair of Evangelical Theology at Northern Seminary and the cofounder of Missio Alliance. He is the founding pastor of Life on the Vine Christian Community, a missional church in the northwest suburbs of Chicago, and is currently on the pastoral staff at Peace of Christ Church in Westmont, Illinois. Fitch writes and speaks extensively about issues facing the church. He has written for Christianity Today, Outreach, and Catalyst and is the author of numerous books, including Faithful Presence and The Great Giveaway.