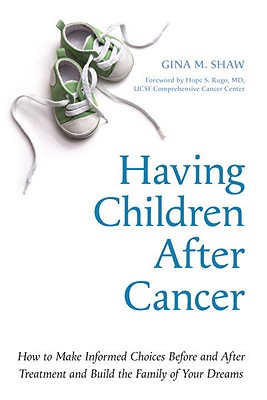 Having Children After Cancer
How to Make Informed Choices Before and After Treatment and Build the Family of Your Dreams
Paperback

* Individual store prices may vary.
Description
Yes, you can have children after cancer.
When faced with a cancer diagnosis, many doctors and patients rush full-speed ahead into treatment, giving minimal attention to the potential fertility implications. Luckily, the field of oncofertility is growing quickly, and medical writer Gina Shaw, herself a cancer survivor, is ready to unravel the complex and evolving issues involved in pre- and post-cancer fertility and family-building options--for both men and women.
Having Children After Cancer
gives you all the tools you need to:
Understand how different cancers can affect fertility
Identify which treatments―chemo, radiation, and surgery―can potentially impair your fertility
Discuss fertility-sparing treatment options with your doctor
Select the fertility preservation method that's right for you--from freezing eggs, embryos, and sperm to preserving ovarian tissue
Analyze the chances of getting pregnant--using natural methods and with in vitro fertilization
Determinethe best time to get pregnant (and which drug therapies to avoid while doing so)
Have a healthy post-cancer pregnancy
Navigate surrogacy and what to tell prospective candidates about your medical history
Consider adoption and learn about survivor-friendly adoption programs and countries
Find sample medical letters and other insurance-company red-tape busting information
Think through the implications of mother- and fatherhood after cancer
Figure out how to talk to your children about the big C
With a foreword by top oncologist Hope Rugo of the UCSF Cancer Center, this first and only cancer-and-fertility guide for patients and survivors will allow you to be your own best advocate throughout the journey.
Praise For Having Children After Cancer: How to Make Informed Choices Before and After Treatment and Build the Family of Your Dreams…
Winner: Honorable Menition in the Service/ Self-Help Category.
The American Society of Journalists and Authors, 2012

"Gina M. Shaw's new book is a welcome addition to my cancer book library. ...'Be My Baby' is a forty-seven page chapter on cancer and adoption--one of the most in-depth sources I've read on the subject. Like the rest of her book, it is laden with straight-up, indispensable information for both men and women facing cancer and planning a family. ...A writer after my own heart, Gina gives readers a serious education on the legal, financial, medical, and administrative side of family planning. ...Whether you are recently diagnosed, a childhood cancer survivor, or just out of treatment, Having Children After Cancer is the family planning go-to-book."
—Kairol Rosenthal, author of Everything Changes: The Insider's Guide to Cancer in Your 20s and 30s, 2/7/11

"an invaluable guidebook for couples journeying into parenthood after cancer."
—Publishers Weekly, 1/3/11

"Practical and helpful, this is recommended for cancer survivors and others facing fertility issues."
—Library Journal, 1/1/11

"This is the book that thousands of cancer survivors have been waiting for. As treatments improve, more and more survivors are thinking about having families, and this book fills the information gap between what they're told and what they need to know. If you've been touched by cancer as a patient, caregiver, or loved one, this book is for you."
—Lynn Westphal, MD, associate professor, Stanford School of Medicine
Celestial Arts, 9781587610547, 208pp.
Publication Date: February 22, 2011
About the Author
GINA SHAW, a health and medical writer, was newly married and trying for a baby when--at age thirty-six--she was diagnosed with breast cancer. Now, seven years later, she's a survivor and proud mother of three children, both adopted and biological. Gina chronicled her journey through breast cancer for Redbook in a five-part diary series. She won the Society of Professional Journalists' award for a WebMD series and the Association of Women in Communications' Clarion Award for another Redbook series, "The Fertility Diaries." Her articles have also been published by Ladies' Home Journal, Fitness, and Woman's Day. She lives with her husband and children in Montclair, New Jersey.
or
Not Currently Available for Direct Purchase