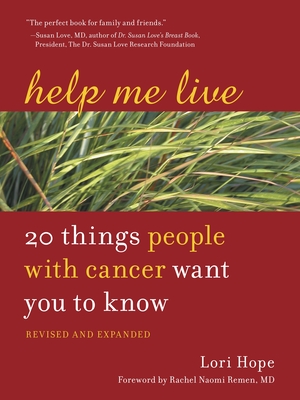 Help Me Live, Revised (Paperback)
20 Things People with Cancer Want You to Know
Celestial Arts, 9781587611490, 288pp.
Publication Date: September 13, 2011
Other Editions of This Title:
Paperback (5/1/2005)
* Individual store prices may vary.
Description
Almost all of us know someone with cancer.
 
And, of course, we want nothing more than to offer comfort and support, and foster hope. But we don't always know how—and may feel uncomfortable asking. Following her own treatment for cancer, Lori Hope created a survey for cancer survivors addressing issues they wanted their families, friends, and caregivers to understand. The results of the newly expanded survey are presented with honesty, insight, and humor, and complemented by scores of compelling personal stories from survivors of diverse ages and backgrounds.
 
If you are a caregiver, Help Me Live will help you communicate more effectively and respond more compassionately. And if you are a survivor, it will help you feel validated, empowered, and, ultimately, hopeful.
About the Author
Lori Hope is a journalist, Emmy-winning documentary filmmaker, and speaker. A tireless advocate for those struggling with the social and interpersonal challenges that come with cancer, she has served on the board of the Bonnie J. Addario Lung Cancer Foundation, has volunteered for The Lung Cancer Alliance and the National Lung Cancer Partnership, and has spoken before the American Cancer Society, the Oncology Nursing Society, and Tulane Medical School. Her commitment to cancer survivors will continue until this book is no longer needed. Visit www.lorihope.com.
Praise For Help Me Live, Revised: 20 Things People with Cancer Want You to Know…
"The perfect book for family and friends."
—Susan Love, MD, author of Dr. Susan Love's Breast Book, President, The Dr. Susan Love Research Foundation
 
"This book is a gift to anyone who has been touched by cancer."
—Nancy L. Snyderman, M.D., F.A.C.S., NBC News Chief Medical Editor, Associate Professor Head and Neck Surgery, University of Pennsylvania
 
"Lori Hope writes with an eloquence and authenticity that inspires all her readers. If you or a loved one have been touched by cancer, Help Me Live is required reading."
—Greg Anderson, author of Cancer: 50 Essential Things to Do, Founder and CEO, Cancer Recovery Foundation Group
 
"Lori Hope offers guidance that is always sensitive and often deeply illuminating. Please, please, read this book!"
—Barbara Ehrenreich, author of Bright–Sided: How Positive Thinking Is Undermining America and Nickel and Dimed
 
"This is a book every cancer survivor, as well as those who share our world, need to read. She says the words that none of us wants to say out loud and offers realistic explanations of how we all need to relate to our disease. This book can offer a great deal of comfort to those starting on the path of living with cancer."
—Kathryn Joosten, actress, The West Wing, Desperate Housewives, and Scrubs
 
"In Help Me Live, Lori Hope has created a masterpiece of compelling and heartfelt words of heal-
ing that should be required reading for doctors, family, and friends of anyone traversing the cancer landscape."
—Regina Vidaver, PhD, Executive Director, The National Lung Cancer Partnership
 
"Even though I am a twenty-year survivor, I needed to be reminded about what people in the throes of cancer need, and Lori Hope's book is perfect."
—Kathy La Tour, Editor-at-Large, Cure magazine
 
"In working over fifteen years as an oncology social worker, it seemed as if Lori Hope had been sitting alongside me catching the rich insights and poignant narratives of our clients and then beautifully crafted Help Me Live to assist the world in truly understanding how one best helps the cancer patient."
—Win Boerckel, LCSW, MSW, Director of Social Service, CancerCare of Long Island
 
"Lori Hope's masterful storytelling and clear explanations are invaluable."
—Wendy Harpham, MD, author of Happiness in a Storm, Diagnosis: Cancer, and Only 10 Seconds to Care: Help and Hope for Busy Clinicians
 
"Always compassionate and pragmatic, Help Me Live breaks new ground with sections on children and young adults and cultural considerations—truly a wonderful resource for all of us."
—Peggy McGuire, Executive Director, Women's Cancer Resource Center
 
"Help Me Live is beautifully written and offers extraordinary pearls of wisdom on love, on hope, on survivorship, on friendship."
—Laurie Fenton Ambrose, President and CEO, Lung Cancer Alliance
 
"As a two-time survivor of breast cancer and a journalist, I found Help Me Live to be informative, touching, and even funny—and when it comes to cancer, you need a sense of humor. The author certainly lives up to her name."
—Laura Marquez, ABC News correspondent
 
"[Hope] writes exquisitely of the emotions and the roller-coaster ride of a cancer diagnosis and treatment. As a nurse educator, I plan to share this book with my students to try and give them some insight into the common experiences that many cancer patients have, as well as the uncommon ones."
—Patricia Reilly, California State University School of Nursing

"This book is invaluable for anyone diagnosed with cancer and for anyone who has a family member or friend battling the disease. Lori Hope, a lung cancer survivor, writes intimately, poignantly, poetically, and humorously."
—Marc Silver, author of Breast Cancer Husband: Help Your Wife (and Yourself) during Diagnosis, Treatment, and Beyond