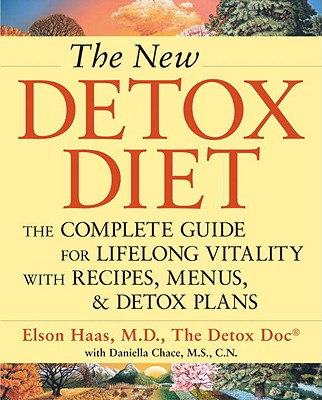 The New Detox Diet
The Complete Guide for Lifelong Vitality with Recipes, Menus, and Detox Plans
Paperback

* Individual store prices may vary.
Description
Dr. Elson Haas has helped thousands recover from chemical dependency through what he calls the missing link in the American diet: detoxification. His tried-and-true program set forth in THE DETOX DIET shows how to cleanse your body of sugar, nicotine, alcohol, caffeine, and other harmful toxins for improved health, energy, and well-being. For those who have experienced the diet'­s benefits and would like to make detoxification a lifestyle choice, THE NEW DETOX DIET presents a comprehensive plan for lifelong vitality. Dr. Haas has teamed up with nutritionist Daniella Chace to provide 50 all-new recipes and menu plans to nourish your body and help you detoxify with minimal side effects. THE NEW DETOX DIET includes tasty, nutritious recipes like Baked Apples, Smoked Wild Salmon Salad, and Mango Salsa. Dr. Haas and Ms. Chace also share case studies and personal stories of triumph over toxic substances. Even after years of a damaging lifestyle or bad eating habits, you can break the cycle of addiction and achieve greater vitality and improved overall well-being. An expanded edition of the best-selling THE DETOX DIET, featuring 50 new recipes and menu plans not available in previous editions, written for those who would like to make detoxification a lifestyle choice. Each chapter ends with a summary of the most important rules for detoxification from each substance. THE DETOX DIET has sold more then 100,000 copies.
Praise For The New Detox Diet: The Complete Guide for Lifelong Vitality with Recipes, Menus, and Detox Plans…
"THE NEW DETOX DIET represents the next wave in health and healing-a must for everybody. Detoxification is the missing link for overall well-being, weight loss, and especially immune system health."-Ann Louise Gittleman, author of the New York Times best-seller The Fat Flush Plan
Celestial Arts, 9781587611841, 264pp.
Publication Date: September 1, 2004
About the Author
DANIELLA CHACE, M.S., C.N., is a nutritionist and author of several books on healthy eating. She lives in Bosie, Idaho.

Elson M. Haas, MD, is an integrative family medicine practitioner with 40 years of healthcare experience. He is the founder and director of Preventive Medical Center of Marin, a multidisciplinary clinic in San Rafael, California. Dr. Haas is the author of ten popular books on health, nutrition, and detoxification, including Staying Healthy with the Seasons, Staying Healthy with Nutrition, and The Detox Diet, 3rd Edition (June 2012), updated for people of various ages, including a new chapter on teens and detox. He has also written The False Fat Diet about food reactions and weight issues, plus More Vegetables, Please!, a family cookbook with chef Patty James. Dr. Haas, as Dr. Sun, has also created entertaining health education products for children and families, including The Anatomix Comix CD and Songbook and Count Broccula. Visit www.haashealthonline.com, www.pmcmarin.com, and www.seasonsstudios.com.
or
Not Currently Available for Direct Purchase