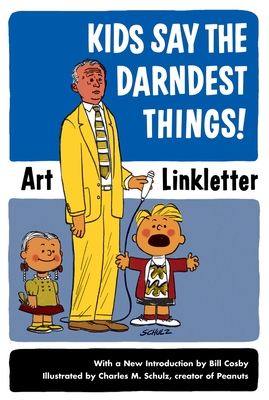 Kids Say the Darndest Things! (Paperback)
Celestial Arts, 9781587612497, 198pp.
Publication Date: August 1, 2005
* Individual store prices may vary.
or
Not Currently Available for Direct Purchase
Description
Almost 50 years since its first printing, this famous collection of children's wisdom and witticisms is now back in print in a facsimile edition to entertain a whole new generation. KIDS SAY THE DARNDEST THINGS includes the best of the unconsciously funny, everyday thoughts and reactions kids shared with kid-at-heart Art Linkletter on his long-running radio and television series House Party .Gems include tips for conjuring up a sibling: "Give Mommy a lot of real sweet food so she'll get fat -that's how you get a baby ";and hysterical observations: "Our pussycat has got some kittens and I didn't even know she was married. "Illustrated with cartoons by Charles Schulz (yes, that Charles Schulz) and with a new introduction by Bill Cosby, KIDS SAY THE DARNDEST THINGS will prove as popular with the readers of today as it was when it first was published five decades ago.
About the Author
ART LINKLETTER is one of the pioneers of talk radio. He appeared live on CBS 's House Party for 26 years, five days a week. His latest TV show, Kids Say the Darndest Things, was hosted by Bill Cosby and featured Art as a special guest. Today he still appears before audiences as a motivational speaker and entertainer, still active in his nineties. He lives in Bel Air, California.
Advertisement