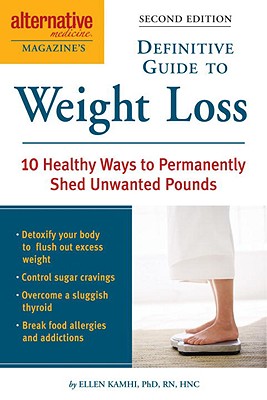 Alternative Medicine Magazine's Definitive Guide to Weight Loss: 10 Healthy Ways to Permanently Shed Unwanted Pounds (Paperback)
10 Healthy Ways to Permanently Shed Unwanted Pounds
Celestial Arts, 9781587612596, 302pp.
Publication Date: March 1, 2007
* Individual store prices may vary.
or
Not Currently Available for Direct Purchase
Description
Alternative medicine holds the key to losing weight permanently. By correcting imbalances resulting from such conditions as food allergies, overactive hormones, yeast infections, an underactive thyroid, or parasites, the health-promoting tips and techniques in this book will help you restructure your health-and melt away unwanted pounds. This simple program kicks off with a comprehensive detox to flush toxins-commonly stored in fat cells-out of the system. Next it presents new ideas for losing weight by matching your diet to your unique body type and learning to choose the right fats, sweeteners, and supplements.Featuring more than twenty healthy recipes, detox teas and juices, lymph-stimulating methods for banishing cellulite, a menu-based eating plan, and the Super Seven Home Workout, ALTERNATIVE MEDICINE MAGAZINE'-?S DEFINITIVE GUIDE TO WEIGHT LOSS contains everything you need to get energized and become the healthy, trim person you'-?ve always wanted to be.
About the Author
Ellen Kamhi, the Natural Nurse (www.naturalnurse.com), has been involved with natural medicine for more than thirty years and is a medical school clinical instructor. She lives in Oyster Bay, New York.
Praise For Alternative Medicine Magazine's Definitive Guide to Weight Loss: 10 Healthy Ways to Permanently Shed Unwanted Pounds…
Ellen Kamhi's new book is the rare find among diet books: an honest, practical, and attainable program that really works!-Ronald L. Hoffman, MD, author of How to Talk with Your Doctor"The total approach to weight loss is actually the same path that is essential to attaining maximum health. Whether you are a newcomer to a holistic approach, or an experienced participant seeking to understand the scientific basis of healthy weight maintenance, this book will guide you to permanently shed those unwanted pounds!"-Hyla Cass, MD, author of 8 Weeks to Vibrant Health"Ellen Kamhi covers the real issues of a global health initiative as part of weight control, with the recognition that fad diets are to be rejected. This book is a must-read for millions of overweight Americans." -Stephen Holt, MD, Distinguished Professor of Medicine, founder of Natures Benefit, Inc., and author of Natural Ways to Digestive Health
Advertisement