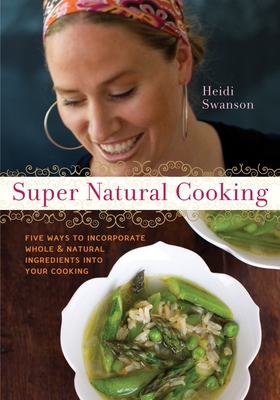 Super Natural Cooking
Five Delicious Ways to Incorporate Whole and Natural Foods into Your Cooking [A Cookbook]
Paperback

* Individual store prices may vary.
Description
Using a palette of natural ingredients now widely available in supermarkets, Super Natural Cooking offers globally inspired, nutritionally packed cuisine that is both gratifying and flavorful.

Everyone knows that whole foods are much healthier than refined ingredients, but few know how to cook with them in uncomplicated, delicious ways. With her weeknight-friendly dishes, real-foodie Heidi Swanson teaches home cooks how to become confident in a whole-foods kitchen by experimenting with alternative flours, fats, grains, sweeteners, and more.

Including innovative twists on familiar dishes from polenta to chocolate chip cookies, Super Natural Cooking is the new wholesome way to eat, using real-world ingredients to get out-of-this-world results. With an inspiring introduction to nutritional superfoods, and an emphasis on whole grains, natural sweeteners, healthy oils, and colorful phytonutrient-packed ingredients, Swanson shows you how to build a whole-foods pantry with nutrition-rich ingredients like almond oil, pomegranate molasses, and mesquite flour--each explained in detail.

Features 80 recipes, a comprehensive pantry chapter, and 100 stunning full-color photos.
Praise For Super Natural Cooking: Five Delicious Ways to Incorporate Whole and Natural Foods into Your Cooking [A Cookbook]…
"In Super Natural Cooking, Swanson not only goes a long way toward helping 'whole' foods shed their stale, hippie stigma but also makes a strong case for putting natural foods at the center of an emerging, modern, global cuisine. Her seductive recipes, like lime-bathed peanut salad and an updated (almost guilt-free) take on the classic Girl Scout Thin Mint cookie, reach out to cooks who want to eat smart but still do it in style."
–Salon.com

"Super Natural Cooking isn't just any other cookbook; it's meant to inspire and educate, utilizing natural and native ingredients and worldly flavors . . . A great addition to your culinary library as you expand your definition of healthy cooking."
–Healing Lifestyles & Spas

"A good, solid guide to natural foods, ingredients, and how to use them without the stigma of this food being only boring, bland steamed vegetables and tofu. You'll like her style and simple recipes along with some beautiful photos. Simplicity and ease are great assets of this book."
–South Florida Sun-Sentinel

"Looking for new ways to eat more naturally and healthfully? Super Natural Cooking is full of good ways to expand your use of whole and natural ingredients."
–Cincinnati Enquirer

"Super Natural Cooking provides not just recipes and advice, but a new perspective on food and how to eat what you should."
–Baltimore Sun

"At last a cookbook is coming that makes natural food appear glamorous and desirable."
–UPI (United Press International) Eat to Live column

"[T]he book's layout is urbane, the photos lush, the recipes modern and sophisticated. The teff-and-tofu crowd, it seems, has gone high-gloss."
–Houston Chronicle
Ten Speed Press, 9781587612756, 224pp.
Publication Date: March 1, 2007
About the Author
Heidi Swanson is the New York Times bestselling author of Super Natural Cooking, Super Natural Every Day, and Near & Far, as well as a photographer, website publisher, and shop curator. She is a two-time James Beard Award winner and was named one of the 100 greatest home cooks of all time by Epicurious. She has been featured in Food & Wine, Bon Appétit, Vegetarian Times, Cherry Bombe, British Journal of Photography, and the San Francisco Chronicle, and on Food52. She lives in Los Angeles.