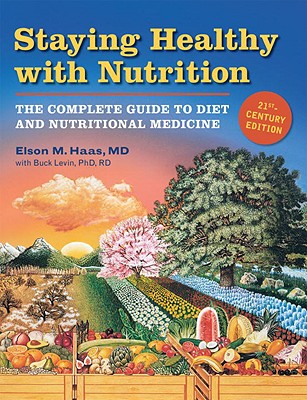 Staying Healthy with Nutrition, rev (Hardcover)
The Complete Guide to Diet and Nutritional Medicine
Celestial Arts, 9781587612824, 944pp.
Publication Date: December 1, 2006
* Individual store prices may vary.
Description
The 21st-century edition of this groundbreaking work by Dr. Elson Haas with Dr. Buck Levin presents the most current health and nutrition information available in an easy-to-use format with a friendly, engaging tone. Decades of practical experience and scientific research are compiled into one encyclopedic volume that features newly expanded chapters on special supplements, lifestage programs, and breakthrough medical treatment protocals for conditions including fatigue, viral illnesses, weight management, and mental and mood disorders such as anxiety, ADHD, and depression.PART ONE gives a detailed analysis of The Building Blocks of nutrition: water, carbohydrates, proteins, fats and oils, vitamins, minerals, and other nutrients.PART TWO evaluates Foods and Diets, discussing every food group and most diets around the world. A special chapter on the environment and nutrition raises awareness and offers guidance about food additives, industrial chemicals, food irradiation, electropollution, and other health and ecological issues.PART THREE brings all of this nutritional information together, showing readers how to make wise and commonsense choices while Building a Healthy Diet. A personalized eating plan for the year, The Ideal Diet is both seasonally and naturally based, and a healthy lifelong diet.PART FOUR contains specific nutritional and lifestyle therapies for enhancing all stages of life and suggests treatments for common conditions and diseases such as aging, menopause, bone loss, weight loss, and cancer by focusing on Nutritional Applications: 32 Special Diet and Supplement Programs.Anyone interested in enhancing wellness, eating right, treating illness naturally, and living in harmony with nature will find Staying Healthy with Nutrition to be the ultimate handbook for optimal health and vitality."For more than thirty years my colleague Dr. Elson Haas has contributed to the field of nutritional education to the benefit of both the public and health practitioners. This new edition of his classic guide is user friendly and filled with current scientific studies, making it possible for everyone to be up to date in this most important are of knowledge about health. In my opinion, Staying Healthy with Nutrition is an excellent guide for those wishing to make smarter dietary choices."—Andrew Weil, MD, author of 8 Weeks to Optimum Health and Healthy Aging"The comprehensiveness of Dr. Haas's Staying Healthy with Nutrition makes it a great desk reference for physicians and other healthcare practitioners or professionals. The more controversial topics are handled with considerable fairness and insight."—T. Colin Campbell, PhD, Professor Emeritus of Nutritional Biochemistry at Cornell University, and author of The China Study
About the Author
Buck Levin, PhD, RD, is an adjunct associate professor of nutrition atBastyr University, where he has taught since 1990. He is the author of Environmental Nutrition: Understanding The Relationship Between Environment, Food Quality, and Disease.

Elson M. Haas, MD, is the founder and director of the Preventive Medical Center of Marin in San Rafael, California, one of the leading integrated healthcare facilities in the country. He is the author of several popular health and nutrition books, including THE NEW DETOX DIET, STAYING HEALTHY WITH THE SEASONS, and THE FALSE FAT DIET.
or
Not Currently Available for Direct Purchase