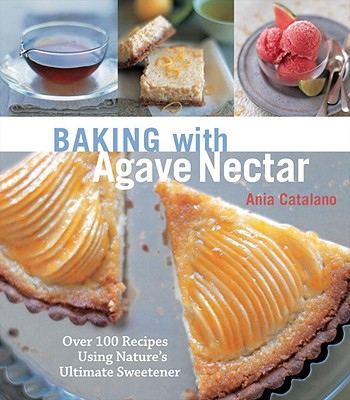 Baking with Agave Nectar: Over 100 Recipes Using Nature's Ultimate Sweetener (Paperback)
Over 100 Recipes Using Nature's Ultimate Sweetener
Celestial Arts, 9781587613210, 134pp.
Publication Date: March 1, 2008
Description
If you haven't discovered agave nectar, you're in for a delectable surprise. This natural, low-glycemic sweetener is a revelation for diabetics, parents of young children, and anyone else who wants to cut down on refined sugar but still enjoy deep, real, satisfying sweetness. Baking with Agave Nectar is bursting with more than 100 recipes for muffins, sweet breads, cookies, cakes, ice creams and sorbets, pies and tarts, sauces and frostings, and other special desserts. With scrumptious gluten-free, vegan, low-fat (or nonfat), and whole foods based treats, as well as healthier (but still decadent tasting) versions of old favorites, there is truly something here for everyone. An ample glossary and resources section--with ingredients used in whole foods, vegan, and gluten-free baking--will help you make all your desserts a little (or a lot) healthier. Once you start baking with agave nectar, you'll find endless possibilities for adding utterly delicious sweet treats to a healthy diet.
About the Author
Ania Catalano is a graduate of the Natural Gourmet School of Cooking in New York and the owner of the Gourmet Whole Foods Catering and Cooking School in Milford, Connecticut. Visit www.gourmetwholefoods.com.THE AUTHOR SCOOP Do you have any unusual or special family traditions?Like a lot of families, Christmas Eve is a time for a special celebration among our family and friends. We have an all-seafood menu, which includes lots of traditional Polish recipes I grew up with: herring with sour cream and onions, perogi filled with farmers cheese and potatoes, and a meatless version of bigos that's made with sauerkraut, wild mushrooms and vegetables. My husband is Italian, so we have a mix of two culinary cultures and even more seafood dishes! The feast continues on Christmas Day. The highlight, as far as I'm concerned, is babka a rich, yeasty sweatbread filled with raisins, cheese or poppyseeds and topped with a honey rum glaze. My mom made the best babka in the world! How did you learn to cook?My Polish mother was an amazing cook and I spent many years in the kitchen with her. In fact, when I owned Sprouts, we spent many more years together in my kitchens! Of course, she never had to measure anything and all her recipes were committed to memory, so my attempts to replicate her dishes never come out quite the same. She loved to experiment and try new things maybe that's where I get my sense of adventure. What's been sitting in the back of your fridge for more than a year?Let me think about what I want to own up to . . . there are a few things! Probably Melinda's Triple XXX Hot Sauce and barley miso have been there the longest. How do you cheer yourself up when you're feeling down?For me, nothing beats a spinning class at the gym! An hour of intense, kick-butt workout leaves me sweaty, happy and pumping with positive endorphins. If that doesn't cure my blues, a glass of good red wine and a plate of cheese usually does the trick!"
Praise For Baking with Agave Nectar: Over 100 Recipes Using Nature's Ultimate Sweetener…
"Exploring the delicious range of agave nectars has changed the way I think about sweeteners. Ania's book is a great place to find inspiration and get to know the nuances of this unique, all-natural sweetener."  --Heidi Swanson, author of Super Natural Cooking "We all need better quality desserts, and cooking with agave nectar--a clean, natural sugar--is a step in the right direction. Enjoy these wholesome treats."  --Elson M. Haas, MD, author of Staying Healthy with Nutrition
Advertisement