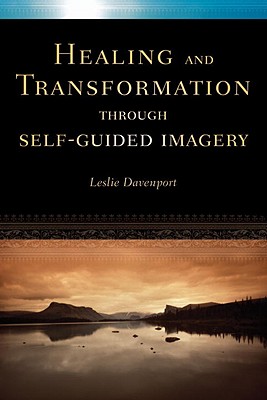 Healing and Transformation Through Self-Guided Imagery (Paperback)
Celestial Arts, 9781587613241, 209pp.
Publication Date: February 1, 2009
Description
A guide to healing from trauma and crisis though the transformative potential of creative visualization techniques.
Tapping into the heart's wisdom through creative visualization is an ancient practice, but today guided imagery is used as an adjunct to conventional medical therapies for health issues ranging from cancer and heart disease to post-traumatic stress disorder and addiction. This inspiring guide provides contemporary techniques for using it to transform moments of pain, emotional turmoil, and interpersonal conflict into opportunities for growth and self-realization.
About the Author
Leslie Davenport, MFT, is a founding member of the Institute for Health & Healing at California Pacific Medical Center in San Francisco, and faculty with the California Institute of Integral Studies and John F Kennedy University."
Praise For Healing and Transformation Through Self-Guided Imagery…
"…this beautiful book (is) the loveliest introduction to and immersion in the practice of guided imagery I have ever seen… Guided imagery, as presented in this book, becomes more than self-help; it becomes a tool of self-realization."
—Linda Graham, author of Bouncing Back: Rewiring Your Brain for Maximum Resilience and Well-Being

"One thing comes clear when reading this book:  Leslie has the chops – she's an experienced, insightful, creative guide and master practitioner who knows whereof she speaks…  It's a great resource for anyone who wants to apply guided imagery to their own issues, struggles and questions."
—Belleruth Naparstek, author of Staying Well with Guided Imagery

"She is a moving storyteller whose deeply spiritual approach is balanced by her sense of pragmatism and humor."
—Martin L. Rossman, MD, author of Fighting Cancer from Within

"Like icebergs floating in the sea — only partially visible to others and ourselves — a good part of what goes on in us lies beneath awareness... This book can help you make those connections, offering relief from the stresses and conflicts of living."
—Thomas Moore, author of Care of the Soul : A Guide for Cultivating Depth and Sacredness in Everyday Life

"Leslie Davenport's work … provide(s) a healing a transformative journey for anyone who is open to self-discovery and initiating positive and empowering change in their lives. Davenport's work is insightful, original and eminently useful for people of all ages and professions."
—Angeles Arrien, author of The Second Half of Life

"Leslie Davenport brings compassionate insight in guiding people to explore the potential openings for living life with greater depth and meaning."
—William B Stewart, M.D., author of Deep Medicine

"Leslie Davenport is an inspiring therapist and healer, with a depth to her work that makes her an alchemist of the heart. She brings a compassionate presence into her work which elicits clarity and insight that leads to true transformation."
—Dennis Kenny, author of Promise of the Soul

"It is one of the best written self-facilitated, self-help books I've seen in a while: easy but profound worksheets walk you through your own process, case studies demonstrate how the process can work, the guided imagery really does guide you, and the author's heart- based wisdom comforts as if she were standing right by you the entire time." 
—Julie Clayton, Editor, New Consciousness Review
Advertisement