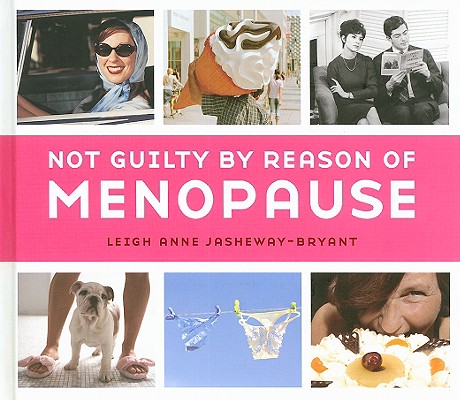 Not Guilty by Reason of Menopause (Hardcover)
Celestial Arts, 9781587613265, 112pp.
Publication Date: September 1, 2008
* Individual store prices may vary.
or
Not Currently Available for Direct Purchase
Description
you might be menopausal if . . .
You buy your antiperspirant in six-packs. You hire a towel boy. You know the calcium content in a pitcher of pina coladas. You can pick your colon out of a lineup.
Tackling "the change of life" with bravery and a wry sense of humor, comedienne Leigh Anne Jasheway-Bryant celebrates the lighter (and hopefully cooler) side of menopause in this daring little book. Combining laugh-out-loud musings with retro photographs and bold graphics, Not Guilty by Reason of Menopause may make you laugh, cry, swear, sweat, binge, and steal--all at the same time. And the book doubles as a fan in a pinch.
About the Author
Leigh Anne Jasheway-bryant is a humor writer, comedy instructor, stand-up comic, former radio host, and the author of fourteen books, including Bedtime Stories for Dogs and Bedtime Stories for Cats. She lives in Eugene, Oregon. THE AUTHOR SCOOP If you had a superpower, what would it be?I do have a superpower - I can make people laugh when they'd rather cry. We all have this superpower, but I have the outfit that goes with it. When did you know you were a writer?When I found myself scribbling on the walls at home with a purple crayon and demanding my mother not to wipe it off because I might be famous some day and she'd be sorry. Are you "six degrees" of separation away from anyone famous? I'm two degrees away from Kevin Bacon! I was on The Leeza Gibbons show with Mo Gaffney who used to play the therapist on Mad About You and was on an episode in which Kevin Bacon appeared as well. How do you cheer up when you're feeling down?I take my three wiener dogs and the two loaner wiener dogs from down the street for a walk. If walking five wiener dogs doesn't put a smile on your face, you might need medication. What did you want to be when you grew up?Secretary of the Interior. Then I found out it didn't involve throw pillows and wallpaper.
Praise For Not Guilty by Reason of Menopause…
"Any woman familiar with the exciting realities of menopause--and the ways it can whack us upside the head--will love this very funny book." --Jan Eliot, creator of the comic strip Stone Soup

"Leigh Anne will make you laugh so hard about hot flashes and hormone rages, you'll tinkle in your pants or shoot soda out your nose!" --Laurie Notaro, author of The Idiot Girl's Action Adventure Club And There's A Slight Chance I Might Be Going To Hell

"The perfect groovy girlfriend gift." --Dotsie Bregel, founder of the National Association of Baby Boomer Women

Book Videos
Advertisement