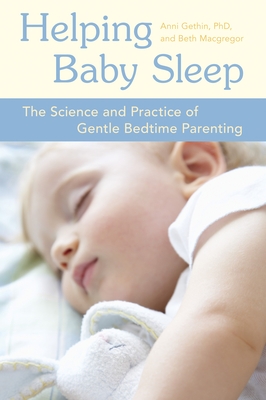 Helping Baby Sleep: The Science and Practice of Gentle Bedtime Parenting (Paperback)
The Science and Practice of Gentle Bedtime Parenting
Celestial Arts, 9781587613401, 205pp.
Publication Date: July 21, 2009
Description
Child development specialists (and mothers) Anni Gethin, PhD, and Beth Macgregor challenge the wisdom of the popular "cry it out" philosophy and instead advocate a responsive parenting approach during the day and at night. Mining the latest scientific research, the authors show parents how to practice gentle bedtime techniques that respect a baby's neurological and emotional development. With this supportive, empowering guide, readers will: - Learn why babies wake at night and need help to settle
- Understand how early parenting choices affect a baby's growing brain
- Examine why "sleep training" is risky, both in the short and long terms
- Discover how to create an effective sleep routine and safe sleeping environment
- Explore common baby sleep problems and how to cope with them
- Find out how tired moms and dads can build a support system (and stay sane) Sensitive, responsive parenting establishes a powerful bond between baby and parent--a connection that lays the foundation for healthy emotional and psychological development. Filled with scientific evidence, stories from parents, and testaments from infant mental health authorities, Helping Baby Sleep gives conscientious moms and dads the insight and practical tools to help their babies thrive.

"Helping Baby Sleep offers tired parents fresh ideas about how to deeply connect with their infant or toddler to support the transition from wakefulness to sleep. The book is filled with beautifully translated, science-based concepts that are made accessible to parents of all backgrounds. The authors have done a masterful job of elucidating the importance of relationships in shaping the brain. Enjoy and sleep well "
--Daniel J. Siegel, MD, author of Mindsight: The New Science of Personal Transformation, and coauthor of Parenting from the Inside Out "Gethin and Macgregor have boldly and successfully waded into the complex issues of infant sleep, creating a guide that gives parents hope and support. A magnificent gift to mothers and fathers--superb."
--Michael Trout, MA, director of the Infant-Parent Instit.
About the Author
ANNI GETHIN, PhD, is a health social scientist who runs a research and planning consultancy, lectures in public health and social science, and is a mother of three boys. BETH MACGREGOR is a psychologist who trains health and welfare workers in infant mental health, child development, and child protection. She has two sons. Both authors live in Sydney, Australia. THE AUTHOR SCOOP Have any good pet stories? I have disgusting pet stories. Never leave a dog and a full potty in the same room. What's been sitting in the back of your fridge for more than a year?I still have my youngest son's placenta in my freezer- he is turning 9. And for several years we had an enormous funnel web spider (Australia's most deadly spider) frozen in water - until we shifted house and some friends babysat our frozen items. Favorite childhood book?Farmer Boy by Laura Ingalls Wilder. I read it so much it fell apart. Name the most horrifying dish that your mother used to make.She was a classic 70s cook (though has modernized greatly since). It is a toss up between a kind of sloppy steak and kidney number and a very grey savory mince. What did you want to be when you grew up?My first stated ambition was to be 'a petrol (gas) station man', followed later by a strong desire to be a zoologist or paleontologist. I don't think any kid dreams of being a social scientist. THE AUTHOR SCOOPWhat is your favorite thing about being an author?Feedback from readers that our book has made a difference to their lives. I love knowing that there are children and parents who are living happier lives as a result of reading our book. Favorite dessert?Sticky date pudding with King Island cream! Favorite childhood book?Enid Blyton's 'Famous Five' books. How do you cheer yourself up when you're feeling down?I actively practice being grateful for all the good things in my life - even for things as simple as having eyes to see and legs to walk. I find gratitude to be the perfect antidote to unhappiness. What's the best way to spend a rainy Saturday morning?Playing in bed with my kids and my husband. If you had to boil the message of Helping Your Baby to Sleep down to one sentence, what would it be?Your baby needs you.
Praise For Helping Baby Sleep: The Science and Practice of Gentle Bedtime Parenting…
"an excellent attachment-parenting guide to regulating little ones' sleep without making them 'cry it out.'"
—Mothering Magazine
 
"Too often parenting books, especially those on infant sleep, give advice incongruent with child and parent's needs. Helping Baby Sleep stands out with its positive approach to infant sleep. ...The informal writing style makes even the scientific information easy to read."
—Journal of Human Lactation, International Lactation Consultant Association (ILCA)
Advertisement