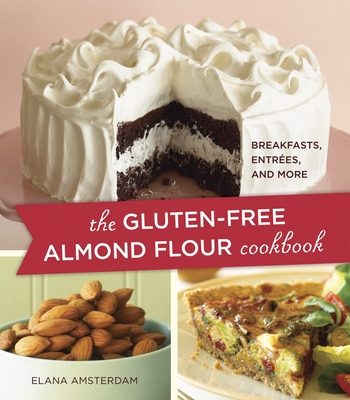 The Gluten-Free Almond Flour Cookbook: Breakfasts, Entrees, and More (Paperback)
Breakfasts, Entrees, and More
Celestial Arts, 9781587613456, 144pp.
Publication Date: July 28, 2009
Description
The prevalence of celiac disease and gluten sensitivity among millions of adults and children has created the need for gluten-free recipes that are as nutritious and tasty as their traditional counterparts. Popular food blogger Elana Amsterdam offers ninety-nine family-friendly classics from Pancakes to Eggplant Parmesan to Chocolate Cake that feature her gluten-free ingredient of choice, almond flour. Because these recipes are low glycemic, low in cholesterol and dairy, and high in protein and fiber, they are also ideal for people with diabetes, obesity, and high cholesterol.
So whether you re looking for a quick breakfast treat, a comfort food entree, or a showstopping dessert, "The Gluten-Free Almond Flour Cookbook" proves that gluten-free cooking can mean healthy eating for everyone.
About the Author
Eco-entrepreneur and gluten-free guru Elana Amsterdam is the author of The Gluten-Free Almond Flour Cookbook, published by Ten Speed Press in July 2009. On her website, Elana's Pantry, she shares weekly recipes and ingredient selection alongsidepurchasing, preparation, and meal-planning tips with her readers and visitors (traffic 50,000 unique hits monthly). Visit her website at www.elanaspantry.com. She has written for publications including the Denver Post, the Boulder Daily Camera, Delicious Living, Delight Magazine, and Elephant, and has been featured in a variety of publications including 5280, Working Woman, Crain's New York Business, Fortune Magazine, and the Wall Street Journal, and has appeared on CNN and MSNBC.Elana lives in Boulder, Colorado with her husband, two boys (chefs in training), two bunnies, and five chickens."
Praise For The Gluten-Free Almond Flour Cookbook: Breakfasts, Entrees, and More…
"Outstanding gluten-free goodies... this lovely cookbook, full of enticing photos, has my mouth watering."
—DeliciousLiving Magazine: Blog
 
"The need is huge for cookbooks for celiacs on limited diets. They will welcome The Gluten-Free Almond Flour Cookbook when it arrives."
—Providence Journal
 
"Flour Girl: Gluten-Free Almond Joy"
—Washington Post

"Amsterdam's recipes will carry you through the day, with pancakes for breakfast, pizza for lunch, and quiche for dinner. She takes classic recipes...and adapts them to almond flour, creating plenty of meal options."
—Cookbook Digest

"We all need to pay attention to the food we eat, all of the time. For people with celiac disease, this is normally an even greater challenge--but not for Elana! Her healthful and flavorful recipes taste as good as they are good for you. Made with almond flour and high in protein and fiber, these dishes are sure to even please the gluten eaters in your family!" 
—Alice Bast, President and Founder of the National Foundation for Celiac Awareness (NFCA)

"For many people, normal food becomes off-limits when they find they have an allergy or condition, such as celiac disease. To wrestle new limitations into foods that are every bit as delicious and appealing (if not more so) is a coup to be celebrated. Having tried the chocolate chip cookies, I speak from experience when I say there is nothing lacking in these recipes. They are truly wholesome and delicious!"
—DEBORAH MADISON, Vegetarian Cooking for Everyone

"Elana has a tremendous gift for creating classic recipes using healthy ingredients. Her high-protein, gluten-free treats are incredibly tasty! I highly recommend this book if you are looking for good food that is also good for you."
—DR. ROBERT ROUNTREE, Smart Medicine for a Healthier Child

"Local hero Elana Amsterdam (straight out of Boulder) offers dozens of wheatless recipes from chicken parmesan to chocolate cake, all of which call for gluten-free almond flour. Enough of the recipes will appeal to gluten-eaters to make this collection a great go-to resource for blended families and/or hosts cooking for gluten-intolerant guests. Readers with a sweet tooth are especially well-served here, but savory recipes like salmon burgers round out the roster."
—The Denver Post, "Causing a STIR: Best Cookbooks of 2009"

"In her Gluten-Free Almond Flour Cookbook, the ingenious celiac Elana Amsterdam offers another possible approach, a sandwich bread made from finely milled almond flour (do not use Bob's Red Mill brand) and almond butter that is nutty and versatile. Amsterdam's recipes are refreshingly simple, as the almond flour reduces the need for the expensive and obscure mix of flours other gluten-free recipes require.... But the ground nut has other virtues, including high amounts of protein and vitamins and low glycemic impact. Amsterdam employs it in a range of dishes, from shortbread cookies and carrot cake to a savory tart with kale. Her snappy herbed crackers, which are a welcome change from commercial nut-thins and dry rice crisps, are equally easy to make and delicious."
—The Philadelphia Inquirer, "Gluten-Free But Still Tasty"
Book Videos
Advertisement