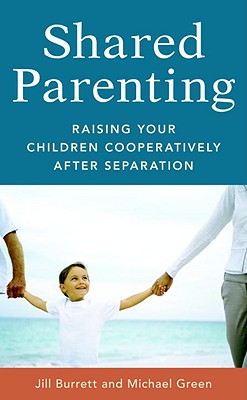 Shared Parenting (Paperback)
Raising Your Child Cooperatively After Separation
Celestial Arts, 9781587613463, 162pp.
Publication Date: August 4, 2009
* Individual store prices may vary.
Description
In this practical book, two experts provide straightforward co-parenting advice to parents facing separation or divorce who wish to pursue the shared parenting approach. Drawing on their extensive experience and research, the authors emphasize the importance of children having significant time with both parents, allowing them to maintain meaningful relationships. By presenting the benefits and challenges, debunking the myths, giving practical tips on communication between the two households, and providing concrete tools to aid in creating co-parenting plans, this book steers parents past their personal feelings toward a successful resolution that is in everyone's best interest.
About the Author
JILL BURRETT is a psychologist with more than 30 years of experience helping parents manage challenging family changes. She is the author of Parenting After Separation.

MICHAEL GREEN is a lawyer who runs a private mediation practice specializing in family conferencing, life skills programs, and dispute resolution. He is the author of Fathers After Divorce.
Praise For Shared Parenting: Raising Your Child Cooperatively After Separation…
"Originally published in Australia (2006), this import seamlessly translates to American readers and is the ideal book for separated parents committed to coparenting. Psychologist Burrett and lawyer Green advocate for greater involvement by fathers and greater sharing by mothers, arguing that both genders are parents even if no longer partners. They warn against excessive scrutiny and help readers identify the fine line between communicating and intruding. In "Sorting Out Your Motives," they present pointed questions for reflection, reminding readers that kids should not be saddled with diplomacy and loyalties. Children's comments and those of separated parents are woven throughout. The Parenting Plans—some very detailed for those with contentious separations and some flexible for those able to share parenting with greater trust—are a big plus."
–Library Journal, Starred Review, August 2009

"Shared Parenting is eminently readable, chock filled with practical suggestions about how to examine your own assumptions and reactions, consider your ex-spouse' s, and keep your children at the heart of every decision. The authors have clearly been around the block a few times and have listened carefully to the feelings and concerns of moms, dads, and children."
–Marsha Kline Pruett, PhD, MSL, coauthor of Partnership Parenting: How Men and Women Parent Differently–and How It Can Help Your Kids and Your Marriage

"A superb resource to help parents define their post-divorce relationship in a way that is best for their family and in a way that most clearly meets the needs of their children. It offers insights and practical solutions to the complex issues and questions that arise during the breakup of any family."
– Jody Mosten, PhD, clinical psychologist, Los Angeles

"If you are divorcing, one of the best things you can do for your children is to read this book. Children need two involved, well-functioning parents, but this is hard for parents to do without help. [This] little book provides all the advice, help, and encouragement you need. A treasure trove of ideas and wisdom."
–Sanford L. Braver, PhD, author of Divorced Dads: Shattering the Myths

or
Not Currently Available for Direct Purchase