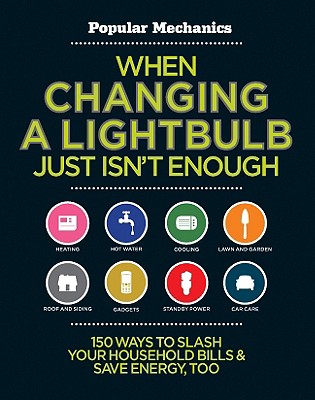 When Changing a Lightbulb Just Isn't Enough (Hardcover)
150 Ways to Slash Your Household Bills & Save Energy, Too
Hearst, 9781588167484, 208pp.
Publication Date: August 1, 2009
* Individual store prices may vary.
Description
There are many environmental reasons to go green—but did you know that eco-friendly choices are often financially smart choices, too? These Popular Mechanics–approved strategies offer double the value, conserving both money and natural resources at the same time. Best of all, you'll get many simple solutions for common problems to implement in your own home. So if thinking globally seems too daunting, think locally—because even small changes can really add up.
Want to lower your carbon footprint…and your bills? Popular Mechanics can help!
- Find out how to reduce energy use, from insulating and greening the materials you use in and around the house to selecting the right appliances
- Save water on your lawn care (and save on water bills)
- Retrofit your car to lower harmful emissions—and get better gas mileage
- Renovate your home with recycled or eco-friendly materials
- Learn basic DIY tasks that curtail waste and lessen wear and tear
- Can't cover the initial costs of big home-improvement projects—even if it will save in the long run? See why a "green mortgage" might be the answer
Plus: quick fixes and weekend projects! 
or
Not Currently Available for Direct Purchase