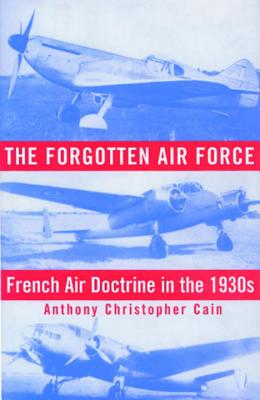 The Forgotten Air Force (Hardcover)
French Air Doctrine in the 1930s
Smithsonian Institution Scholarly Press, 9781588340108, 214pp.
Publication Date: March 17, 2002
* Individual store prices may vary.
Description
Germany's 1940 defeat of the Armee de l'air, perhaps the world's preeminent air force at the close of World War I, is commonly attributed to incompetent French leadership. Drawing on primary French sources not previously available to historians, Cain argues that in the 1930s the French Air Force was intellectually and operationally constrained, owing to an insufficient interest in and understanding of aviation by the Army and Navy high commands and the French government. But there was certainly no shortage of qualified officers who understood the capabilities of a modern air force in warfare.
Through this groundbreaking and innovative analysis, Cain brings a measure of balance to European interwar history.
About the Author
Lt. Col. Anthony Christopher Cain, USAF, was recognized by the Air Education and Training Command as Educator of the Year in 1995. He is a veteran B-52 radar navigator with more than 3,000 flying hours, and he earned the Distinguished Flying Cross while flying twenty-six combat missions during Operation Desert Storm.
or
Not Currently Available for Direct Purchase