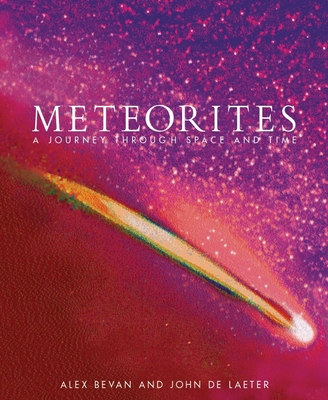 Meteorites
A Journey through Space and Time
Hardcover

* Individual store prices may vary.
Description
The authors trace the formation and breakup of the planets, asteroids, and comets where meteorites originated, their long journey through space, their fall to Earth, their recovery, and what scientists are learning from them. The book contains a great deal of material about the "84001 Martian meteorite," which has raised provocative new questions about life on the red planet. Looking forward, the authors chart the exciting new era of planetary, asteroidal, and cometary exploration planned for this century.
Praise For Meteorites: A Journey through Space and Time…
"Although it does touch on legends and anecdotes about meteorites, this pictorial survey mainly delves into why the experts value every find: each one contains geochemical clues about the origin of the solar system. Bevan and de Laeter deliver the central facts on the radioactive dating that yields ages for a meteorite's formation and its time in space and on the ground. Dating is straightforward; more debatable, and what makes meteoritics a lively science, is figuring out from a meteorite's constituent minerals and crystals the conditions of temperature and pressure during its creation. Some, for example, contain microscopic diamonds, a sign they formed in supernovae shock waves before our Sun existed. Another reason scientists covet these extraterrestrial rocks and dust, explain the authors, is the indication they give of traffic congestion in our neighborhood, a concern with cosmic catastrophe reinforced by the album's photos and diagrams of craters on Earth. Informative and visually appealing, this title meets any library's need for a basic source on meteorites."—Gilbert Taylor, Booklist
Smithsonian Books, 9781588340214, 256pp.
Publication Date: April 17, 2002
About the Author
ALEX BEVAN is curator of minerals and meteorites at the Western Australian Museum in Perth; JOHN DE LAETER is emeritus professor of physics at Curtin University in Perth.
or
Not Currently Available for Direct Purchase