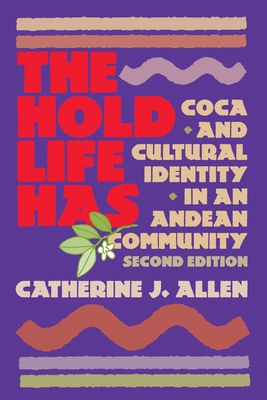 The Hold Life Has (Paperback)
Coca and Cultural Identity in an Andean Community
Smithsonian Books, 9781588340320, 312pp.
Publication Date: October 17, 2002
* Individual store prices may vary.
Description
This second edition of Catherine J. Allen's distinctive ethnography of the Quechua-speaking people of the Andes brings their story into the present. She has added an extensive afterword based on her visits to Sonqo in 1995 and 2000 and has updated and revised parts of the original text. The book focuses on the very real problem of cultural continuity in a changing world, and Allen finds that the hold life has in 2002 is not the same as it was in 1985.
About the Author
Catherine J. Allen was the recipient of a 2001 Guggenheim Fellowship Award and is professor of anthroplogy and international affairs at George Washington University in Washington, DC. She is the coauthor with Nathan Garner of Condor Qatay: Anthropology in Performance (1996).
Praise For The Hold Life Has: Coca and Cultural Identity in an Andean Community…
"A beautifully written and skillfully constructed example of ethnographic 'thick description.'. . . . Readers will gain much from her richly detailed ethnographic contextualization of . . . basic Andean truisms, since nowhere else in the literature has it been done better."—American Anthropologist

"So why is this ethnography different from any other ethnography? Because Allen never distances herself from the human dimensions of life in the Andes. From the beginning, the Andeans are fully realized characters, not nameless and faceless informants. . . . This work is humanistic anthropology at its very best. . . It demonstrates in elegant and sometimes poetic prose that there are no substitutes for lived experience in life or in ethnographic prose."—Paul Stoller, Anthropology Newsletter

"Allen has written an engrossing, sensitive, and highly personal ethnography of the people of Sonqo. . . . Allen succeeds admirably in portraying how Runa use coca to create and maintain social ties and allegiances with each other and their humanized topography."—American Ethnologist

"This book is true anthropology. It is about people, the people of Sonqo, and how they think and feel, live and die. Allen . . . examines a series of relationships through an analysis of the uses of coca, providing a wealth of ethnographic detail. . . . [A] well-written volume."—Latin American Anthropology Review