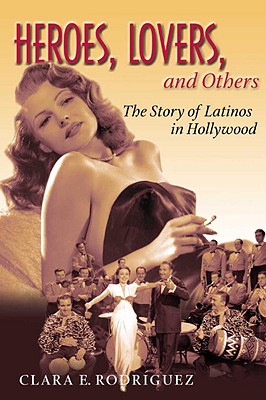 Heroes, Lovers, and Others: The Story of Latinos in Hollywood (Hardcover)
The Story of Latinos in Hollywood
Smithsonian Books, 9781588341112, 256pp.
Publication Date: May 17, 2004
* Individual store prices may vary.
or
Not Currently Available for Direct Purchase
Description
"Heroes, Lovers, and Others" tells the fascinating history of Latinos in film, from the birth of the movies to the present, through a series of stories about Hollywood's most famous and enduring stars. The book features such Latino legends as Dolores del Rio, Rita Hayworth, Ramon Navarro, Desi Arnaz, Anthony Quinn, Raquel Welch, Selma Hayek, and Antonio Banderas. The sparkling parade of Latino film stars presented against the backdrop of American social and cultural history changes the way we think of race and ethnicity in Hollywood and challenges us to reexamine conventional ways of viewing our past.
About the Author
Clara E. RodrIguez is professor of sociology at Fordham University. She has recently updated the classic Coser, Kadushin, and Powell text, "Books: The Culture and Commerce of Publishing." She has also been a consultant to a number of television shows and documentaries, most recently, "Dora, the Explorer" and "Sesame Street."
Praise For Heroes, Lovers, and Others: The Story of Latinos in Hollywood…
"'When Hollywood films are discussed in print,' says Rodríguez, 'a certain journalistic and academic amnesia sets in about the role of Latinos in the history of Hollywood.' Determined to redress this lapse she offers, rather than a survey of stars, a social history of Latinos in Hollywood. Comprehensive up through Penelope Cruz and Antonio Banderas, not to mention cultural icon Cheech Marin, her handy compendium leans a bit toward the academic in places but remains a very readable resource on Latino influence and presence in Hollywood and pop culture generally."—Mike Tribby, Booklist

"Rodríguez's cultural and ethnic history traces the work of Latino actors in American film from the silent era to today. Although the Fordham University professor's specialty is sociology and her research is compiled from clip files and an assortment of secondary sources, her smooth writing and passion for the topic make this a worthy introduction to Latino film studies."—Publishers Weekly
Advertisement