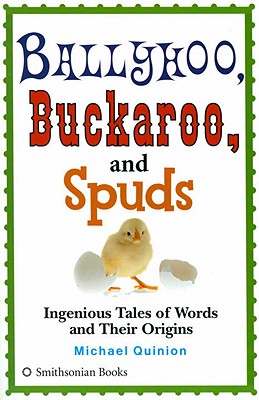 Ballyhoo, Buckaroo, and Spuds (Hardcover)
Ingenious Tales of Words and Their Origins
Smithsonian Books (DC), 9781588342195, 280pp.
Publication Date: October 17, 2004
Other Editions of This Title:
Paperback (3/14/2006)
* Individual store prices may vary.
Description
The real story of a word or phrase's origin and evolution is often much stranger--and much more humorous--than the commonly accepted one; the many entries will certainly leave you "happy as a clam." Happy as a clam? Really, what's so happy about being a clam? The saying makes much more sense when it's paired with its missing second half: "at high water." Now a clam at high water is a safe clam, and thus a happy clam. From the bawdy to the sublime, Quinion's explanations and delightful asides truly prove that the "proof is in the pudding.
About the Author
Michael Quinion hosts and writes the World Wide Words Web site and is a contributor to the "Oxford English Dictionairy."
Praise For Ballyhoo, Buckaroo, and Spuds: Ingenious Tales of Words and Their Origins…
"When he is not busting myths, the author (who runs the World Wide Words Web site) offers up origins of words and phrases that most readers will probably have wondered about. . . . The book is simply organized—alphabetically, of course—and endlessly illuminating. Quinion's research and documentation are impeccable, and when he needs to make a leap of imagination, he does so gracefully. For word lovers, this book is indispensable."—David Pitt, Booklist
or
Not Currently Available for Direct Purchase