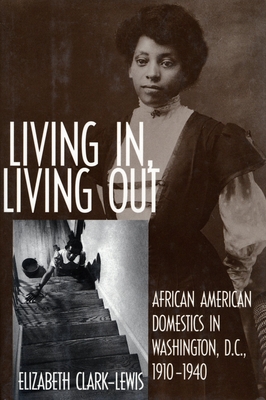 Living In, Living Out
African American Domestics in Washington, D.C., 1910-1940
Paperback

* Individual store prices may vary.
Description
This oral history portrays the lives of African American women who migrated from the rural South to work as domestic servants in Washington, DC in the early decades of the twentieth century. In Living In, Living Out Elizabeth Clark-Lewis narrates the personal experiences of eighty-one women who worked for wealthy white families. These women describe how they encountered—but never accepted—the master-servant relationship, and recount their struggles to change their status from "live in" servants to daily paid workers who "lived out."

With candor and passion, the women interviewed tell of leaving their families and adjusting to city life "up North," of being placed as live-in servants, and of the frustrations and indignities they endured as domestics. By networking on the job, at churches, and at penny savers clubs, they found ways to transform their unending servitude into an employer-employee relationship—gaining a new independence that could only be experienced by living outside of their employers' homes. Clark-Lewis points out that their perseverance and courage not only improved their own lot but also transformed work life for succeeding generations of African American women. A series of in-depth vignettes about the later years of these women bears poignant witness to their efforts to carve out lives of fulfillment and dignity.
Praise For Living In, Living Out: African American Domestics in Washington, D.C., 1910-1940…
"This vivid tale of social transformation is original; the interview material is stunning. No one else has the richness of data about women making the transition from rural to urban, agricultural to industrial, southern to northern, family-dominated to individual-directed life. This is an extraordinarily rich account of a group of women in the very process of making these shifts basic to the creation of our urban, individualistic world. That they are African American women domestics makes the story even more striking and delicious."—Phyllis Palmer, author of Domesticity and Dirt
Smithsonian Books, 9781588342867, 256pp.
Publication Date: July 6, 2010
About the Author
Elizabeth Clark-Lewis is director of the Public History Program at Howard University and co-producer of the award-winning video Freedom Bags.
or
Not Currently Available for Direct Purchase