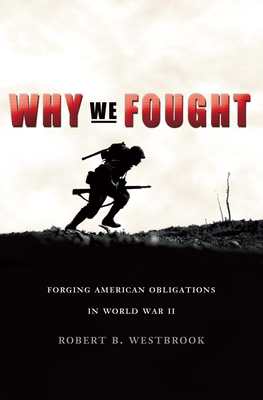 Why We Fought
Forging American Obligations in World War II
Paperback

* Individual store prices may vary.
Description
Why We Fought is a timely and provocative analysis that examines why Americans really chose to sacrifice and commit themselves to World War II. Unlike other depictions of the patriotic "greatest generation," Westbrook argues that, strictly speaking, Americans in World War II were not instructed to fight, work, or die for their country—above all, they were moved by private obligations. Finding political theory in places such as pin-ups of Betty Grable, he contends that more often than not Americans were urged to wage war as fathers, mothers, husbands, wives, lovers, sons, daughters, and consumers, not as citizens. The thinness of their own citizenship contrasted sharply with the thicker political culture of the Japanese, which was regarded with condescending contempt and even occasionally wistful respect.

Why We Fought is a profound and skillful assessment of America's complex political beliefs and the peculiarities of its patriotism. While examining the history of American beliefs about war and citizenship, Westbrook casts a larger light on what it means to be an American, to be patriotic, and to willingly go to war.
Praise For Why We Fought: Forging American Obligations in World War II…
"A deeply thoughtful and probing meditation on the cultural undercurrents that united Americans in the war against Fascism. Unafraid to challenge historical assumptions about the Second World War, Why We Fought is a truly essential new interpretive work. Read it!"—Douglas Brinkley, director of the Eisenhower Center for American Studies

"Robert Westbrook's Why We Fought is a brilliant, sustained reflection on the conflict between liberal society and state power in the age of total war. Westbrook imaginatively connects high and popular culture to illuminate the complex moral significance of a war too easily shrouded in sentiment. With sensitivity and insight, he raises issues at the heart of contemporary public debate."—T. J. Jackson Lears, Board of Governors professor of history at Rutgers University
Smithsonian Books, 9781588342959, 166pp.
Publication Date: July 6, 2010
About the Author
Robert B. Westbrook, author of the highly acclaimed John Dewey and the American Democracy, teaches American history at the University of Rochester. He lives in Brockport, New York.
or
Not Currently Available for Direct Purchase