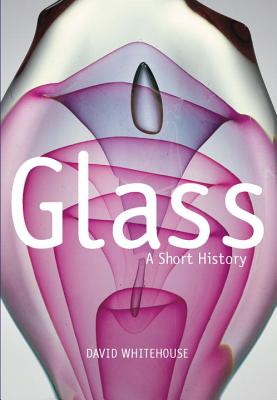 Glass
A Short History
Hardcover

* Individual store prices may vary.
Description
Illustrated with 120 superb pieces, Glass: A Short History brings to life a centuries-old craft that has served many purposes, styles, and cultures. Until the first century BC, glass was made only in Western Asia, Egypt, and the Mediterranean regions; its manufacture then spread to China and other areas. The peoples of the Roman Empire included the most versatile glassmakers in the ancient world, leading to both widely available low-cost  glassware and stunning  luxury glass. During  the Middle Ages, Islamic glassworkers  decorated  their fine cut glass with gilding and brilliant enamel. In the 15th century, the focus of luxury glassmaking shifted to Venice. Glassmaking  in Europe  was transformed again in the 17th  century, when thick-walled  objects with cut and engraved ornament were in great demand.

By the nineteenth century,  glassmaking was well established in America, where, as in Europe, industrial processes were developed to supply the rapidly expanding population with glassware for daily use. Within the past 50 years glass has gained acceptance as a medium for artistic expression, and the Studio Glass Movement, born in the United  States, has inspired artists all over the world to explore its unique properties. Glass tells this sweeping story from ancient times to the present in an accessible text with gorgeous examples.
Praise For Glass: A Short History…
PUBLISHERS WEEKLY

Despite the ubiquity of glass objects in our lives, "it is difficult to identify a book that provides a short, readable, overview" of the subject, argues Whitehouse (Roman Glass in the Corning Museum of Glass), senior scholar at the Corning Museum of Glass. Although this is not the most scintillating text, it does the job, while full-color photographs represent beautiful examples of glass objects from around the world. The discovery of glassblowing by the ancient Romans revolutionized production, but techniques of molding, casting, and core-forming glass produced unusual results, such as dimpled tableware of the fifth-century Achaemenids or slumped glass artwork from the 20th century. Glass decorating techniques distinguished glassworkers in the Hellenistic Mediterranean, who used multiple methods to create glass tableware, and also early-modern European glass etchers. Photo captions provide insight into how glassworkers made both the everyday and the extraordinary, from an Iranian molded tumbler to a pitcher cut with delicate green lines. Whitehouse concludes by remarking on the growth of glass as a medium for art and collectibles, and this book will certainly be welcomed by visitors to museums and galleries. Three pages of glossary and further reading round out this succinct presentation of a versatile medium for the utilitarian, decorative, and artistic. (May)

LIBRARY JOURNAL

Whitehouse (senior scholar, Corning Museum of Glass) has compiled an informative history of the creation and use of glass. People have been making glass for over 4000 years, and Whitehouse traces its history from its rough beginnings to the discovery of glassblowing to its rise as an art form. The text is beautifully illustrated with 130 color images of glass from ancient to modern times, drawn from the British Museum and the Corning Museum of Glass collections. Previous works, such as Alan Macfarlane and Gerry Martin's Glass: A World History, focus on the cultural impact of glass and glassmaking; this book traces glassmaking from its beginnings to the present, touching on its global spread in the first century B.C.E. and centuries of innovations in craft and changes in style. A glossary and index complete this well-thought-out book.

VERDICT A beautifully illustrated history of glass for those interested in knowing how glassmaking began and how it became the art form it is today. Recommended.—Sandy Knowles, South Carolina State Lib., Columbia
Smithsonian Books, 9781588343246, 128pp.
Publication Date: May 29, 2012
About the Author
David Whitehouse is Executive Director of the Corning Museum of Glass, Corning, New York.