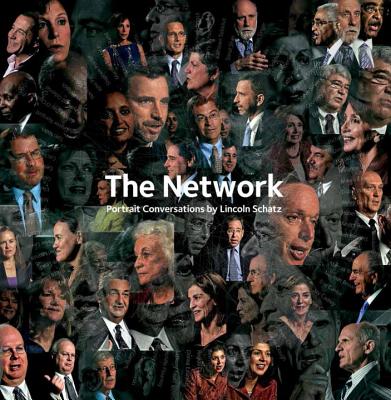 The Network
Portrait Conversations
Hardcover

* Individual store prices may vary.
Description
As the nation grapples with some of the greatest developments and challenges to date, The Network presents a dynamic portrait of the people who help shape America's current technology, policy, and education. Drawing inspiration from Richard Avedon's 1976 photographic portfolio, The Family, The Network consists of generative video portraits of 100 entrepreneurs, industrialists, politicians, scientists, scholars, inventors, and other influential figures, some of whom may be household names and others who operate behind the scenes, who play pivotal roles shaping the history and daily workings of America. The project builds on aspects of portraitist Lincoln Schatz's earlier project, Esquire's Portrait of the 21st Century (National Portrait Gallery, Smithsonian Institution), taking a closer look at how the touchstones of America are created and preserved.
Praise For The Network: Portrait Conversations…
PUBLISHERS WEEKLY

It's not easy being a Washingtonian; Congress's approval rating is at an all-time low and many Americans believe that our system is, if not totally broke, in need of some help. Schatz's book, a companion to an ongoing video portrait exhibition at the National Portrait Gallery, is a pleasant and well-timed effort to burnish the image of the folks inside the Beltway. Familiar faces such as former Supreme Court Justice Sandra Day O'Connor are joined by people like anti-tax GOP operative Grover Norquist and Michael Kaiser, the president of the John F. Kennedy Center for the Performing Arts. The world of Washington, D.C. workers—lobbyists, secretaries, deputies, directors, elected officials, judges, chairpersons, and journalists—is presented in an earnest, easy to read history-book style. The Chicago-based Schatz, an artist but not a journalist, spent about 45 minutes with each subject and the book showcases photo stills and edited first-person transcripts from those sessions. Based on the innocuous narratives, Schatz was not going for gotcha moments nor was he challenging his subjects. These rosy portraits may have limited appeal if you're a jaded insider, but for the average American adult or school child, they're chock full of worthwhile details and telling anecdotes.

"Lincoln Schatz's The Network uses an innovative technological matrix to introduce the people, ideas, and interconnections that drive our nation forward. Leaping past conventions of "artist" and "sitter," "picture" and "viewer," this interactive and immersive group portrait will revolutionize our sense of how power operates, and what art can reveal. A truly extraordinary experience."
--Paul Roth, Senior Curator and Director of Photography and Media Arts, Corcoran Gallery of Art, Washington, D.C.
"Lincoln Schatz is the most important and daring portraitist of the twenty-first century. He brings a singular vision as well as technological wizardry to rendering the most influential people of our time. The Network is his most ambitious project yet: As a portrait of not merely a group of individuals but also a portrait of power, The Network is entirely new and destined to define our moment in time for ages."
--David Granger, Editor in Chief, Esquire


"It's a feat of technical wizardry that offers a chance to observe powerful figures from the perspectives of their convictions rather than their constituents."--Washington City Paper
 "In The Network, Mr. Schatz used three cameras to capture 45-minute interviews with each of 89 Beltway powers on their lives, work and concerns; their images and narratives are replayed continuously on a 70-inch screen but never repeated in the same way. Instead, issue-related keywords determine their sequence and content. You may hear National Rifle Association President David Keene and Emily's List President Stephanie Schriock wax poetic on the same topic (say, freedom) sequentially. You get a sense of the interviewee's ardor, intensity and commitment to causes, and see broad connections between the content as it unfolds."--Crain's Chicago Business
 "Equal parts Andy Warhol screen test and Congressional Yellow Book, the television displays various contemporary politicians, wonks, journalists, business leaders, science innovators, and cultural guardians, speaking about their upbringings, their passions, their world views, and their outlooks on the future."--US News & World Report
"It is, in many ways, the ultimate Washington coffee-table book."--The Washington Independent Review of Books
Smithsonian Books, 9781588343352, 224pp.
Publication Date: December 11, 2012
About the Author
LINCOLN SCHATZ is a contemporary American artist best known for works that utilize video to collect, store, and display images from specific environments. His CUBE project combined architecture, video, and performance, using a video system to generate painterly, screen-based portraits of subjects. In 2008, the Hearst Corporation commissioned Schatz to create CUBE portraits to celebrate the 75th Anniversary of Esquire magazine. The work profiled the 75 most influential people of the 21st century including George Clooney, LeBron James, Jeff Bezos, and Craig Newmark. The series of portraits was acquired by the National Portrait Gallery in 2010. His work is held in numerous public and private collections.
or
Not Currently Available for Direct Purchase