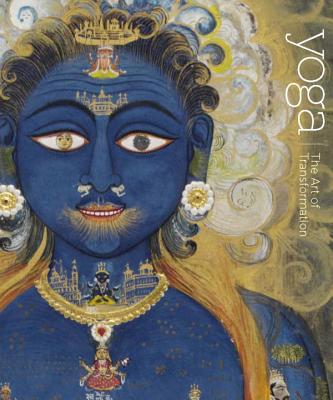 Yoga
The Art of Transformation
Hardcover

* Individual store prices may vary.
Description
New York Times 2013 holiday gift list pick

An exploration of yoga's meanings and transformations over time; the discipline's goals of spiritual enlightenment, worldly power, and health and well-being; and the beauty and profundity of Indian art.
Praise For Yoga: The Art of Transformation…
The New York Times

"Stress is a holiday hazard. If you want to stay centered and keep your chakras aligned, or know someone who does, by all means pick up this catalog for an outstanding exhibition of the same name at the Smithsonian's Arthur M. Sackler Gallery in Washington through Jan. 26. Hard to believe, but the show is the first-ever survey of yoga's visual history, and those visuals are really something: monumental 10th-century sculptures of female spiritiual teachers, or yoginis; minute 17th-century manuscript paintings; and fascinating 19th-century photographs. They're all in the book, along with a wealth of absorbing ideas. Bliss." - Holland Cotter, The New York Times 2013 holiday gift list
Library Journal


Although more than 20 million Americans have practiced yoga at some point in their lives, many are not aware of the length and breadth of the yoga tradition. Diamond (South & Southeast Asian Art, Sackler Gallery; Garden and Cosmos: Royal Painting of Jodhpur) explores the diversity of the yoga tradition through its visual culture. The title is a play on words, as the word "transformation" not only speaks of yoga's power to transform individuals but of how yoga itself has transformed over millennia. Diamond organized a show of the same name at Washington, DC's Arthur M. Sackler Gallery, the first ever art exhibition covering the visual culture of yoga. Seven contributors' essays explore the history and evolution of the practice from ancient through modern times and across cultures. They reveal that yoga is not the property of any one religion or culture but has been adapted again and again to meet the needs of its practitioners. Themed catalog entries provide further analysis of the beautiful full-color reproductions of the exhibition's artwork. VERDICT Appropriate for students and scholars of both art history and yoga; however, prior knowledge of related philosophy and Indian history is necessary to fully comprehend the text.  —Julia A. Watson, Marywood Univ. Lib., Scranton, PA

Choice

Far more than an exhibition catalogue, this work by Diamond (Sackler Gallery, Smithsonian) et al. is an indispensable resource for the study of Yoga, Indian religions more generally, and Indian art. It is likewise a trove for the study of embodied religion. The curated images visually demonstrate the development and changing construct of Yoga in works dating from 1900 BCE to the present, including sculpture, painting, and photography. The images are successfully elucidated by the accompanying text. The nine essays are all worthy contributions to scholarly discourse--insightful enough to be worthwhile to specialists, yet accessible, in their language and presentation, to nonspecialists. Although the emphasis is on Hindu forms of Yoga, the Jain, Buddhist, Sikh, and Muslim forms of Yoga are also addressed. Furthermore, the essays and pictorial selections excel at demonstrating the interplay between the transgressive aspects of Yoga and the adaptation and adoption of Yoga by mainstream cultures. Perhaps more than anything, however, this work is invaluable because of the quality of the images. In many cases, the originals are so small that they cannot be adequately studied without significant magnification. This book presents them in stunning reproductions in forms where the details can be appreciated. Summing Up: Essential. Lower-division undergraduates through researchers/faculty; general readers. --G. J. Reece, American University
Smithsonian Books, 9781588344595, 360pp.
Publication Date: December 3, 2013
About the Author
DEBRA DIAMOND is Associate curator of South and Southeast Asian art, Freer Gallery of Art and Arthur M. Sackler Gallery. Her exhibition catalogue for Garden and Cosmos (fall 2008) received two major awards for scholarship: the College Art Association's Alfred H. Barr award and the Smithsonian Secretary's Award for Research. She has published on yoga imagery, new methods in Indian art history, contemporary Asian art, and various aspects of the Freer|Sackler collections.