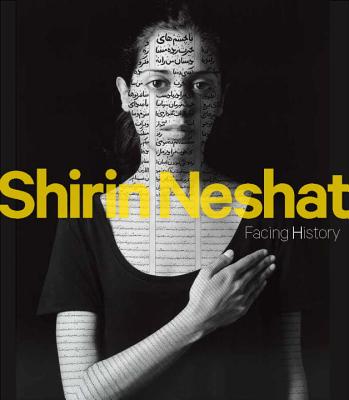 Shirin Neshat
Facing History
Hardcover

* Individual store prices may vary.
Description
In her mesmerizing films and photographs, Shirin Neshat (Iranian-American, b. 1957, Qazvin) examines the nuances of power and identity in the Islamic world--particularly in her native country of Iran, where she lived until 1975. Shirin Neshat: Facing History is the companion volume to the Smithsonian's Hirshhorn Museum exhibition of the same name. This beautiful volume presents an array of Neshat's most compelling works and illuminates the points at which cultural and political events have inflected her artistic practice. Included are the "Women of Allah" photographs that catapulted the artist to international acclaim in the 1990s; lyrical video installations that immerse the viewer in imagery and sound; and the photographic series "The Book of Kings"--including its latest chapter, Our House Is on Fire, created in the aftermath of the recent Egyptian revolution. Hirshhorn curator Melissa Ho provides an introduction to Neshat's deeply humanistic art, and executive director of the Foundation for Iranian Studies Mahnaz Afkhami contributes a cultural and political history of Iran to contextualize Neshat's work. Commenting on freedom and loss, the art of Shirin Neshat is at once personal, political, and allegorical, and this book is a testament to its enduring power.
Praise For Shirin Neshat: Facing History…
PUBLISHERS WEEKLY
Accompanying an exhibit at the Smithsonian's Hirshhorn Museum, this catalogue frames Iranian-American artist Shirin Neshat's work in relation to the recent history of Iran and the Islamic world. Neshat's work is both astutely politically engaged and insistently attuned to emotional and impressionistic human experiences. A series of photographic prints and video installations, for instance, features a fictional character named Munis, a young woman who strives for social justice, confronts oppression from an older brother, commits suicide, and enters an otherworldly space of the political undead. Several other works feature Persian text, pulled from literary sources and inserted onto the hands, feet, and faces of Neshat's melancholic photographic subjects. The catalogue includes a number of essays celebrating Neshat in the context of modern Iranian history, and in particular the realities of U.S. influence and intervention in the country. In concert with the evocative, striking images and Neshat's own contextualization of her work, the catalogue provides not only an illuminating take on an important video and photographic artist, but also a nuanced understanding of Iran's recent political and cultural evolution. (June)


BOOKLIST
Born in Iran in 1957, Shirin Neshat came to the U.S. in 1975, and here she has remained as oppression and war continue to roil her homeland. As an artist in exile, Neshat has steeped herself in Iran's history, literature, and political and social movements, especially the activism of women, and created elegant, melancholy, and dramatic photographs, videos, and films exploring the underlying complexities of Iranian lives. In Women of Allah (1997), Neshat portrays women in chador, lacing with exquisite Persian calligraphy (poems and prose by Iranian women writers) the parts of the body that remain uncovered. Neshat's galvanizing black-and-white stills from her videos Turbulence, Rapture, and Fervor depict the separation of the sexes and the loneliness of displacement. In this superlative volume, Neshat's graceful, dignified work is illuminated by cogent analysis and her own resonant commentary.
— Donna Seaman
Smithsonian Books, 9781588345097, 192pp.
Publication Date: May 26, 2015
About the Author
MELISSA HO is a curator at the Smithsonian's Hirshhorn Museum and Sculpture Garden, where she organized the exhibitions Salvatore Scarpitta: Traveler, Barbara Kruger: Belief+Doubt, and, with Evelyn Hankins, At The Hub of Things: New Views of the Collection. She has contributed to numerous publications, including Color Chart: Reinventing Color 1950 to Today and Barnett Newman. MAHNAZ AFKHAMI is currently the executive director of the Foundation for Iranian Studies, and was formerly Minister of Women's Affairs for Iran.
or
Not Currently Available for Direct Purchase