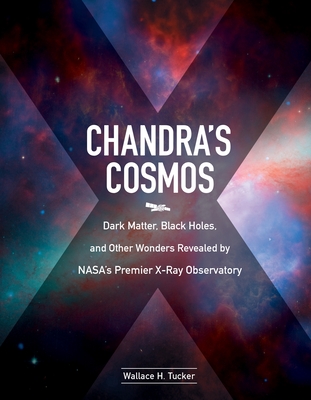 Chandra's Cosmos
Dark Matter, Black Holes, and Other Wonders Revealed by NASA's Premier X-Ray Observatory
Hardcover

* Individual store prices may vary.
Other Editions of This Title:
Digital Audiobook (3/27/2017)
Compact Disc (3/28/2017)
MP3 CD (3/28/2017)
Description
On July 23, 1999, the Chandra X-Ray Observatory, the most powerful X-ray telescope ever built, was launched aboard the space shuttle Columbia. Since then, Chandra has given us a view of the universe that is largely hidden from telescopes sensitive only to visible light. In Chandra's Cosmos, the Smithsonian Astrophysical Observatory's Chandra science spokesperson Wallace H. Tucker uses a series of short, connected stories to describe the telescope's exploration of the hot, high-energy face of the universe. The book is organized in three parts: "The Big," covering the cosmic web, dark energy, dark matter, and massive clusters of galaxies; "The Bad," exploring neutron stars, stellar black holes, and supermassive black holes; and "The Beautiful," discussing stars, exoplanets, and life.

Chandra has imaged the spectacular, glowing remains of exploded stars and taken spectra showing the dispersal of their elements. Chandra has observed the region around the supermassive black hole in the center of our Milky Way and traced the separation of dark matter from normal matter in the collision of galaxies, contributing to both dark matter and dark energy studies. Tucker explores the implications of these observations in an entertaining, informative narrative aimed at space buffs and general readers alike.
Praise For Chandra's Cosmos: Dark Matter, Black Holes, and Other Wonders Revealed by NASA's Premier X-Ray Observatory…
Whenever astronomers have looked at the universe with new eyes, they have made fundamentally new discoveries.  This book masterfully describes the discoveries of one such set of eyes, the Chandra X-ray Telescope, sensitive to some of the highest-energy phenomena in the universe.  From black holes to dark matter, from exploding stars to cosmic rays, this book has it all. 
 
Michael A. Strauss, author of Welcome to the Universe:  An Astrophysical Tour

Chandra's Cosmos is a richly rewarding account of recent discoveries in astronomy and cosmology, including galaxy clusters, black holes, dark matter, dark energy, and more.
Astronomer and veteran science writer Wallace Tucker welcomes the reader with a
a down-to-earth conversational tone and historical and literary references, as well as accurate reporting. In the end, we are left in awe with how much we've learned about our vast cosmos, and how much remains a mystery.
 
Alan Lightman, Professor of the Practice of the Humanities, MIT and
author of Einstein's Dreams, The Accidental Universe, and many other books

In Chandra's Cosmos, Wallace Tucker explains how the Chandra X-Ray Observatory has played a critical role ​in our understanding of the universe. When we deployed Chandra, the third of NASA's four Great Observatories, from the space shuttle Columbia in 1999, we knew it had the potential to do for X-ray astronomers what the Palomar telescope had done for optical astronomers. In the almost two decades since its launch, Chandra has exceeded all our expectations and has given us critical insight into the invisible universe of X-ray astronomy and the energetic processes that produce X-rays. One remarkable scientific discovery that Chandra helped to confirm is the existence of dark matter and dark energy, which make up about 95 percent of the universe and about which we know almost nothing. No doubt Chandra will help us solve that problem in years to come. In the meantime, Tucker tells us the story of the evolution of our understanding of the remaining 5 percent of the universe in a way that will capture the interest of anyone who has pondered the nature of the cosmos. 
 
Steven A. Hawley, Professor, Physics and Astronomy, University of Kansas, and astronaut, STS-93, Chandra Deployment Mission 

PUBLISHERS WEEKLY

Tucker (Revealing the Universe, with Karen Tucker), science spokesperson for the Smithsonian Astrophysical Observatory's Chandra X-ray Center, relates the history of NASA's Chandra X-ray Observatory and the purpose for which it was constructed. When Chandra was launched in 1999 aboard the space shuttle Columbia, astrophysicists hoped the x-rays it observed emitting from the hottest regions of space would reveal the twisted space around black holes, the secrets of supernovas, and how the big bang's early moments shaped the universe. Tucker tells his story in three sections. "The Big" explores the paradox of dark matter and dark energy, the mysterious features that make up 95% of our universe. "The Bad" illuminates supermassive black holes, including the monsters that fuel quasars and those that lurk at the center of many galaxies—including the Milky Way. Tucker's "The Beautiful" takes a closer look at supernovas, the explosive stellar death throes that end in white dwarfs, neutron stars, and pulsars. Because Earth's atmosphere absorbs x-rays, astronomers need telescopes like Chandra in space to collect data. Tucker's richly illustrated book shows why Chandra's data is essential to building a more complete picture of our universe, its components, and its history. Illus. (Apr.)

BOOKLIST

NASA's Chandra X-Ray Observatory has been orbiting Earth taking precise readings of the universe's hot spots since 1999. The unprecedented high-resolution images it generates of "exploded stars, galaxy clusters, and matter around black holes" is, thanks to the work of innovative astrophysicists, dramatically changing our understanding of the shape and makeup of the universe. This is heady material and Tucker is pitch-perfect in his elucidation of how X-ray astronomy works and what it is revealing about the powerful phenomena that keep the cosmos forever in flux. With spectacular photographs accompanying his vivid
descriptions, Tucker explains that 95 percent of the universe is "dark"—that is, impenetrable to our tools of detection—with 25 percent defined as dark matter and 70 percent as dark energy, a mysterious force that is increasing as the universe expands. Tucker writes of cosmic rays, cosmic webs connecting "massive galaxy clusters," sheets of gas, and, most dramatically, black holes, around which blast "jets of highenergy particles resembling awesome waterspouts." It's one astonishment after another in this invaluable, imagination-stirring overview of cutting-edge astrophysics.
— Donna Seaman

CHOICE

"Peering deep and long into the darkness is what astronomers do," says Tucker, a professional astronomer, a science journalist, and the science spokesperson for the Smithsonian Astrophysical Observatory's Chandra X-Ray Center. Few instruments have peered as deep into darkness as NASA's Chandra X-ray Observatory, launched in 1999. This is a beautiful book about some of the most amazing discoveries made by one of NASA's flagship observatories. It is richly illustrated with images and diagrams that are well-explained in simple terms and written in Tucker's easy-to-follow, conversational style. The book's main theme is that access to the X-ray region has given astronomers key information on a host of "hot" topics in astronomy, ranging from white dwarf stars and supernovas to the monster black holes at the heart of most or all galaxies like our own. Chandra observations have also provided key clues to current astronomical puzzles, such as dark matter and dark energy. This book introduces readers to all these topics and more. It is also a good general introduction to astronomy, albeit presented in a nontraditional yet very engaging, order.
--T. D. Oswalt, Embry-Riddle Aeronautical University Summing Up: Highly recommended. All readers.
Smithsonian Books, 9781588345875, 272pp.
Publication Date: March 28, 2017
About the Author
WALLACE H. TUCKER is the science spokesperson for the Smithsonian Astrophysical Observatory's Chandra X-Ray Center. He is the author of numerous papers and seven books, including Revealing the Universe.
or
Not Currently Available for Direct Purchase