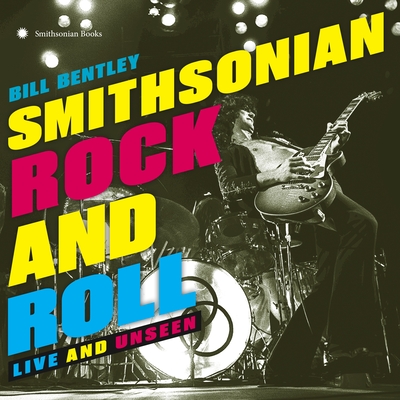 Smithsonian Rock and Roll
Live and Unseen
Hardcover

* Individual store prices may vary.
Description
In December 2015, the Smithsonian called on rock and roll lovers around the world to collect photos and stories of their favorite moments in music. Fans dug through attics, basements, closets, shoeboxes, digital cameras, and photo albums to post great rock shots to rockandroll.si.edu. From Woodstock to the Whisky a Go Go, from Lollapalooza to the 9:30 Club, and all the rockin' places in between, fans overwhelmingly responded with their favorite rock and roll moments. Iconic artists ranging from the Who to Nirvana to Chuck Berry to the Jimi Hendrix and many more are celebrated here. There are early photographs of everyone from Run-D.M.C. to the Runaways, and contemporary shots of some of the biggest names in music, including Bruce Springsteen, the Rolling Stones, and Metallica. Presented together, these photographs create a kaleidoscopic history of the artists, the musical styles, the venues, the concerts, and the fans. This is rock and roll as it has never been seen before.
Praise For Smithsonian Rock and Roll: Live and Unseen…
"For the better part of five decades, Bill Bentley and I have been listening to the music of the spheres together, and these visuals are a thrilling roadmap to where we've been and, one hopes, where we're going." —Billy F Gibbons, ZZ Top

"Within minutes of meeting Bill for the first time back in the early '80s, we found ourselves talking about Joe Tex's 'The Love You Save' and Roky Erickson's 'Don't Slander Me' in the same paragraph. I knew right there and then that he'd always be a voice to which I would attend." —Elvis Costello

"Bill Bentley is that rare breed: a music industry insider who actually knows and loves music. Within these pages lurk fantastic images of everyone from Bob Dylan to the 13th Floor Elevators, many of them previously unseen. Buy this book!" —Jimmy McDonough, author of Shakey: Neil Young's Biography and Soul Survivor: A Biography of Al Green

"If rock and roll was a planet, Bill Bentley would be the head astronaut and Smithsonian Rock and Roll would be the operator's manual. This is a trip worth checking out." —Wayne Coyne, the Flaming Lips

"Bill Bentley is a music mensch." —Lou Reed

LOS ANGELES TIMES
"A candid compendium of musical history marked by the trapped-in-time moments […] The joy and devotion contained in the photos is as infectious as the music itself."

WASHINGTON POST
"Hundreds of fans' rock-and-roll photos in a handsome new photography book […] The author was open to huge pop stars as much as cult musicians. The 13th Floor Elevators, a Texas psychedelic band, warrant a two-page spread. Kiss is in there; so are Guns N' Roses."

PHILADELPHIA INQUIRER
"Curated by legendary record man Bentley, the handsome tome covers Chuck Berry to Led Zeppelin to the Alabama Shakes."

HOUSTON PRESS
"From early rock pioneers like Chuck Berry and Little Richard to '70s titans Led Zeppelin and David Bowie up to Jack White and Adele, 120 different artists are shown in concert in this coffee-table book."

PARADE
"It's a gorgeous coffee-table book, a sweeping photographic history of stars, performances, style and magical moments."

BOOKLIST
"A canon of rock [...] This large-format book is eminently browsable and will prompt readers to dig out their old records or stream their favorite songs."

LIBRARY JOURNAL
"An excellent work that should have wide appeal for all music fans."
Smithsonian Books, 9781588346001, 216pp.
Publication Date: October 24, 2017
About the Author
BILL BENTLEY is the former A&R Director at Concord Music Group and Vice President of Warner Bros. Records. He has been a drummer, record store clerk, DJ, concert promoter, music producer, and record label publicist. Through it all he has been a writer; in 2007 he received the ASCAP Deems Taylor award.