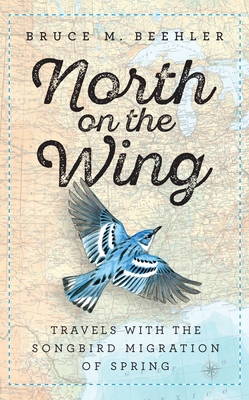 North on the Wing
Travels with the Songbird Migration of Spring
Hardcover

* Individual store prices may vary.
Other Editions of This Title:
Digital Audiobook (2/5/2018)
MP3 CD (2/6/2018)
Compact Disc (2/6/2018)
Compact Disc (2/6/2018)
Description
The story of an ornithologist's journey to trace the spring migration of songbirds from the southern border of the United States through the heartland and into Canada.

In late March 2015, ornithologist Bruce M. Beehler set off on a solo four-month trek to track songbird migration and the northward progress of spring through America. Traveling via car, canoe, and bike and on foot, Beehler followed woodland warblers and other Neotropical songbird species from the southern border of Texas, where the birds first arrive after their winter sojourns in South America and the Caribbean, northward through the Mississippi drainage to its headwaters in Minnesota and onward to their nesting grounds in the north woods of Ontario. In North on the Wing, Beehler describes both the epic migration of songbirds across the country and the gradual dawning of springtime through the U.S. heartland--the blossoming of wildflowers, the chorusing of frogs, the leafing out of forest canopies--and also tells the stories of the people and institutions dedicated to studying and conserving the critical habitats and processes of spring songbird migration. Inspired in part by Edwin Way Teale's landmark 1951 book North with the Spring, this book--part travelogue, part field journal, and part environmental and cultural history--is a fascinating first-hand account of a once-in-a-lifetime journey. It engages readers in the wonders of spring migration and serves as a call for the need to conserve, restore, and expand bird habitats to preserve them for future generations of both birds and humans.
Praise For North on the Wing: Travels with the Songbird Migration of Spring…
NATURE
Beehler's 100‑day account is both deeply informed by conservation science and history, and lit by euphoric moments such as seeing roseate spoonbills duelling with "absurd spatulate bills", or a cerulean tide of blue jays in flight over Wisconsin wolf country.

BIRD WATCHER'S DIGEST
[Beehler's] career was as a professional research ornithologist--he is an expert on the birds of New Guinea--but he is a bird watcher, too, and his deep fascination for natural history and understanding of the relationship between birds, physical geography, and the interconnected web of life on which birds depend permeates every page.

LIBRARY JOURNAL, STARRED REVIEW
What ornithologist Beehler describes as the mere retracing of a classic 1947 account of the spring bird migration northward through the United States becomes a travelog liberally spiced with bird watching, natural history, political commentary, and U.S. history. Its focus is Beehler's bird-watching pursuit from the Gulf of Mexico to Canada's Boreal forest; 37 species of colorful warblers. Other topics that affect bird populations regularly enrich the narrative: unique state parks and feral cats, the Lincoln-Douglas Debates, and the U.S. Army Corp of Engineers' attempts to control the course of the Mississippi River. After three months of camping, hiking, biking, bird-watching, and musing about an array of subjects, Beehler checks off the last of the 37 warblers on his list in New York's Adirondacks: the blackpoll warbler. VERDICT This debut will satisfy a variety of readers; those interested in bird-watching, natural and American history, and travelogs will find Beehler's story especially appealing.

BOOKLIST
Inspired by the travelogues of naturalist Edwin Teale, ornithologist Beehler decided to embark on a variation of Teale's 1951 migration study and follow modern-day songbirds, starting in the southern U.S. and traveling along the Mississippi up to northern Ontario. Beehler was also determined to learn about field biologists studying migratory birds on his route and how groups are working to restore migratory habitats. This was a more structured scientific journey than Teale's, although Beehler relished camping and brought along a kayak and bicycle to supplement his local forays. He focuses heavily on the presence of various warblers, a small songbird easily overlooked by casual birders, and imparts everything from the most basic facts of migration to the more curious, such as songbird "fall-outs," which occur when weather can cause thousands of birds to literally fall out of the sky—and survive! As conservationists discuss how modern forestry must include active "disturbance," Beehler expands on the complex work necessary to preserve migratory patterns. A charming and enjoyable sojourn in the company of a witty and knowledgeable guide.

KIRKUS REVIEWS
A valuable source of information for songbird lovers and dedicated bird-watchers

CHOICE
This absorbing travelogue by a Smithsonian ornithologist owes inspiration to Edwin Way Teale's classic North with the Spring (1951). For 100 days in 2015, the author travels from coastal Texas up the Mississippi River Valley, then to northern Ontario and the Adirondacks. He drives, bikes, hikes, canoes, and camps every night, following the spring migration in a quest to see all 37 varieties of eastern warblers. He explores solo or with local experts, musing on the history of these areas and providing insightful commentary on the mixed effects of river levees, conservation, pollution, acid rain, climate change, hunting, fishing, monocultural agriculture, extraction industries, forestry practices, and trapping. Of special interest are Beehler's discourses on Native Americans and the changes humans have wrought on the land. The weighty issues he describes are enhanced by his sense of wonder and enjoyment of the trip, often at lesser-known parks and campgrounds. Not a reference book yet much more than a journal, North on the Wing makes a superb addition to collections on natural history, American history, and travel writing. An authoritative treasure and well-reasoned cri de coeur (with excellent chapter bibliographies).


"As a newly infatuated birdwatcher, I was transported by Bruce Beehler's North on the Wing. In the guise of a travelogue, Beehler's account takes us on the ultimate no-frills road trip to tiny towns and hidden birding paradises to observe the miraculous touchdown of songbirds returning to our shores after surviving impossible odds to get here. Infused with scientific knowledge and personal passion, North on the Wing should serve as a companion to Steinbeck's Travels with Charley, destined to be a classic on the shelves of birders, naturalists, conservationists, and nature lovers alike."—Amy Tan, author of The Joy Luck Club and Where the Past Begins
 
"From the coastal cheniers of Texas to the boreal forests of Canada, North on the Wing takes us on the adventure of a lifetime: a migration north with billions of songbirds. Beehler weaves together deep, colorful tales of people and places with the biology of the birds themselves in masterful prose. Readers feel as though they are watching warblers, vireos, and thrushes through their own binoculars."—Peter P. Marra, director, Smithsonian Migratory Bird Center
 
"Experience the epic journey of bird migration through the eyes and ears of one of the leading birdwatchers and authors in North America. Bruce Beehler allows us to see the amazing natural spectacle of spring migration through an epic adventure inspired in part by the 1947 travels of Edwin Way Teale and his wife, Nellie—a journey that gave rise to the classic American natural history book North with the Spring. Beehler's multistate, hundred-day odyssey allows us to live vicariously through his birding and carries an important conservation message in a time when the fate of songbirds hangs in a precarious balance. I can't recommend it highly enough."—Michael J. Parr, president, American Bird Conservancy
Smithsonian Books, 9781588346131, 256pp.
Publication Date: February 6, 2018
About the Author
BRUCE M. BEEHLER is an ornithologist, naturalist, conservationist, author, and lecturer. He is a research associate in the division of birds at the Smithsonian National Museum of Natural History. He is best known for coleading a survey of biological diversity in the Foja Mountains of Papua New Guinea in 2005, during which the Wattled Smoky Honeyeater was discovered and the Bronze Parotia and Golden-fronted Bowerbird were photographed for the first time. He has published eleven books about nature, most recently Birds of New Guinea.
or
Not Currently Available for Direct Purchase